Multi-Layer Digital Background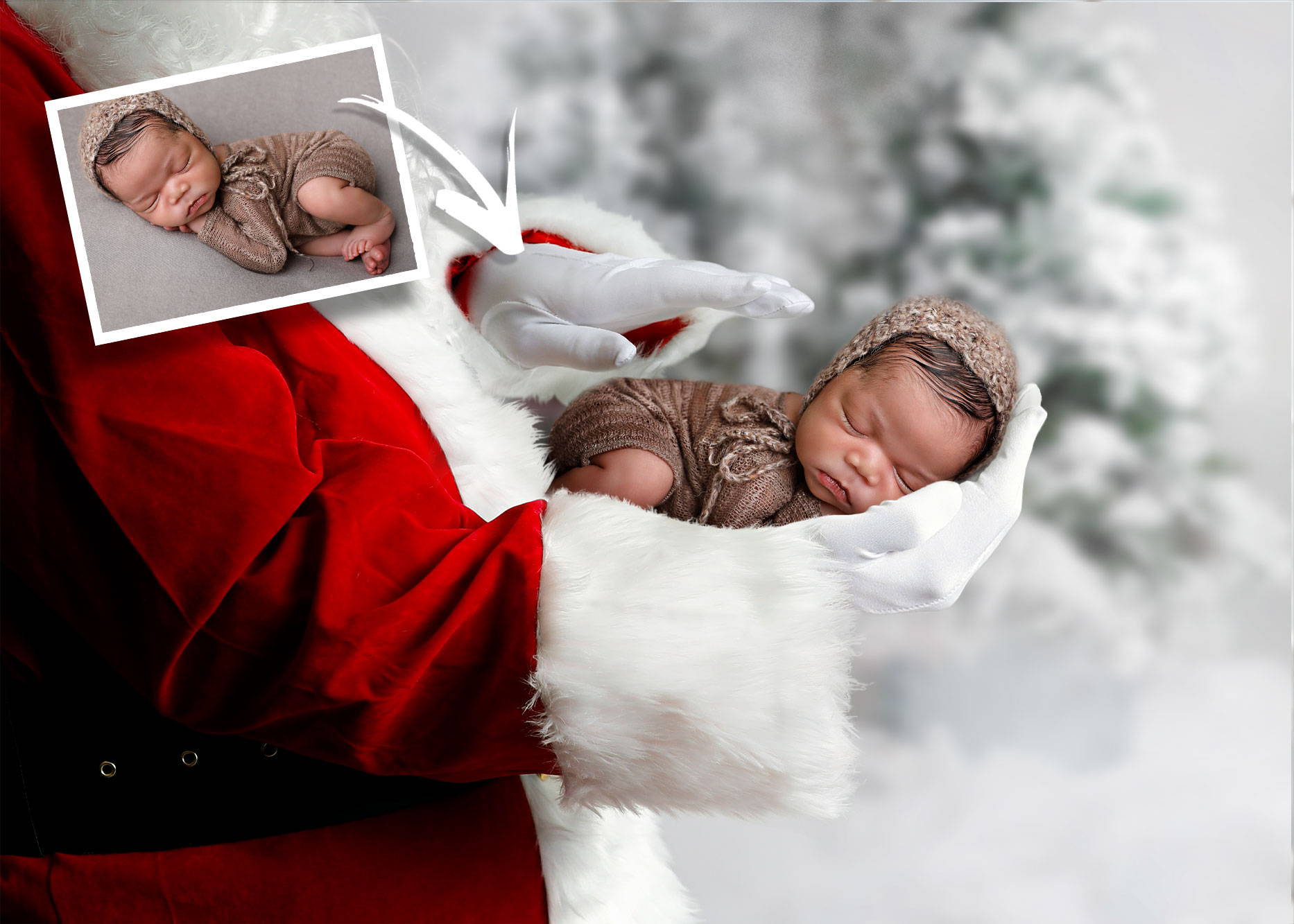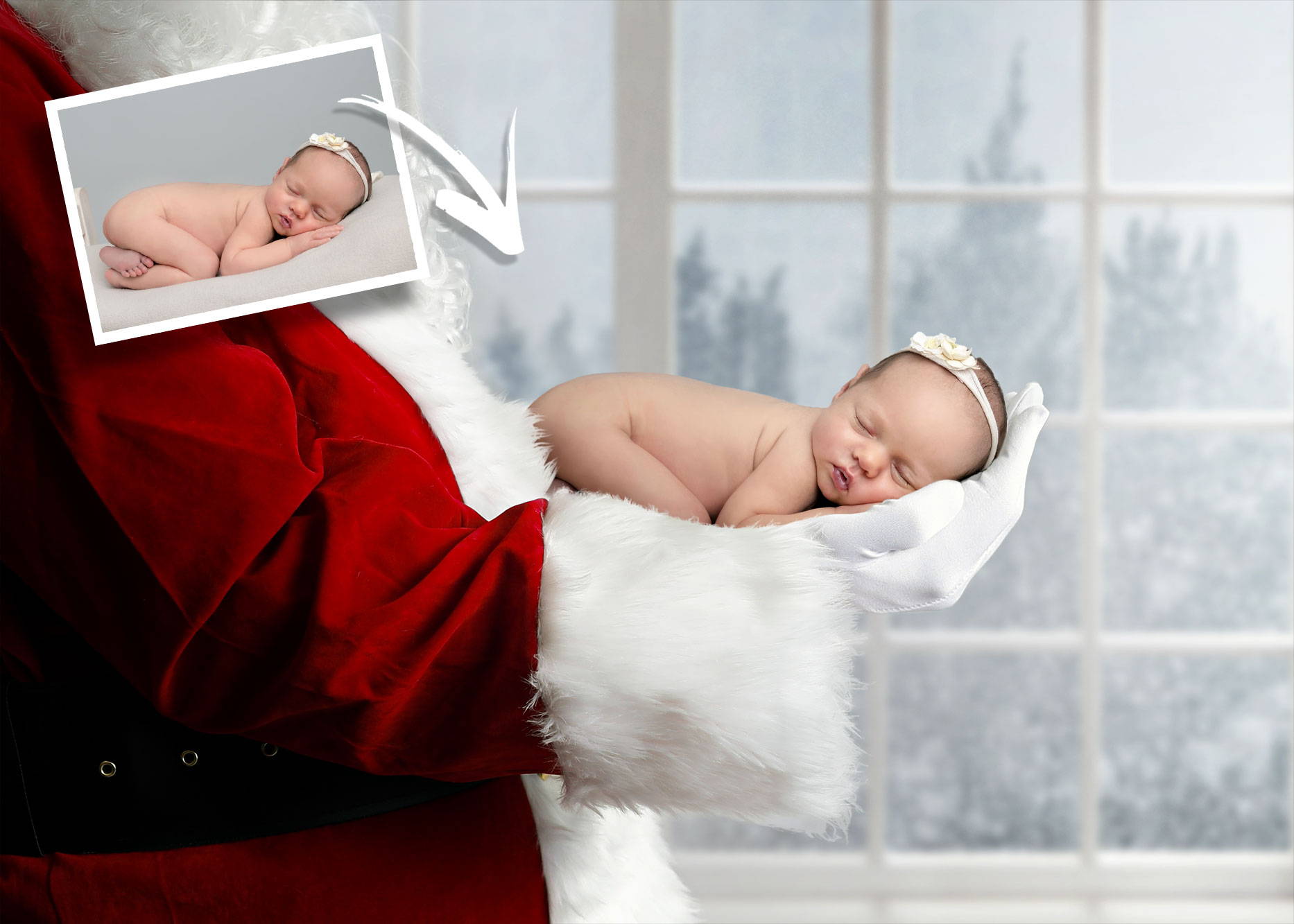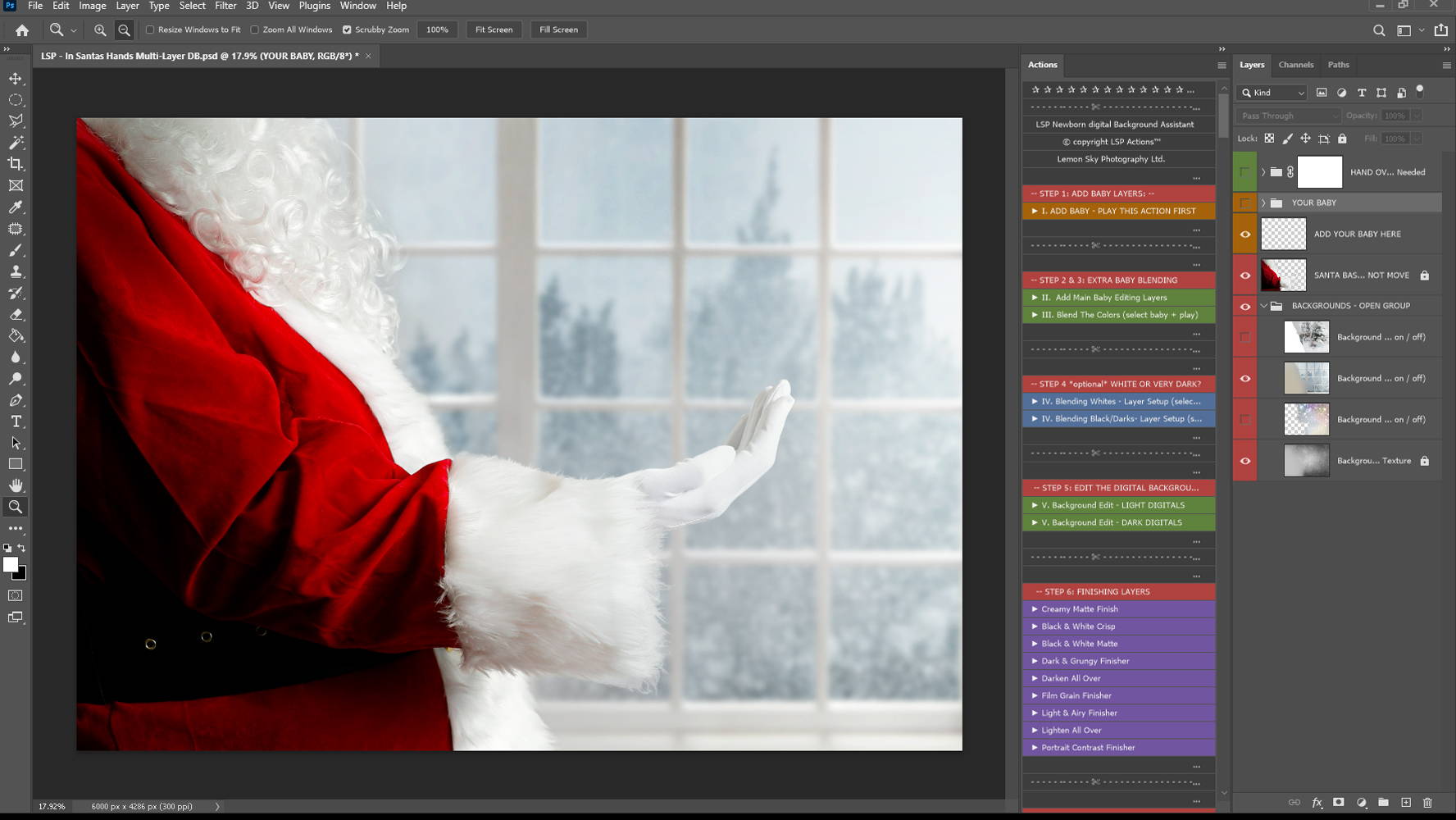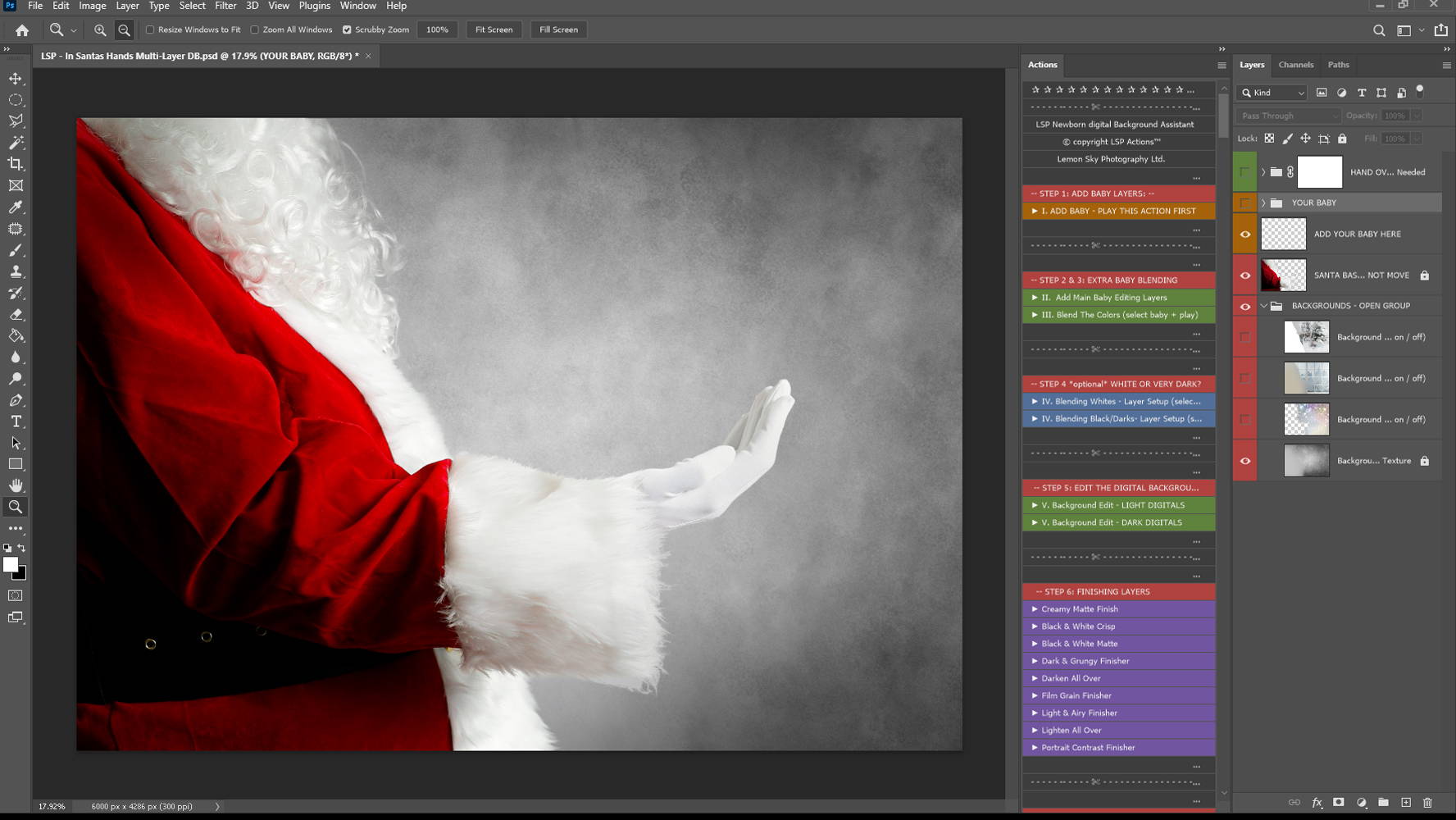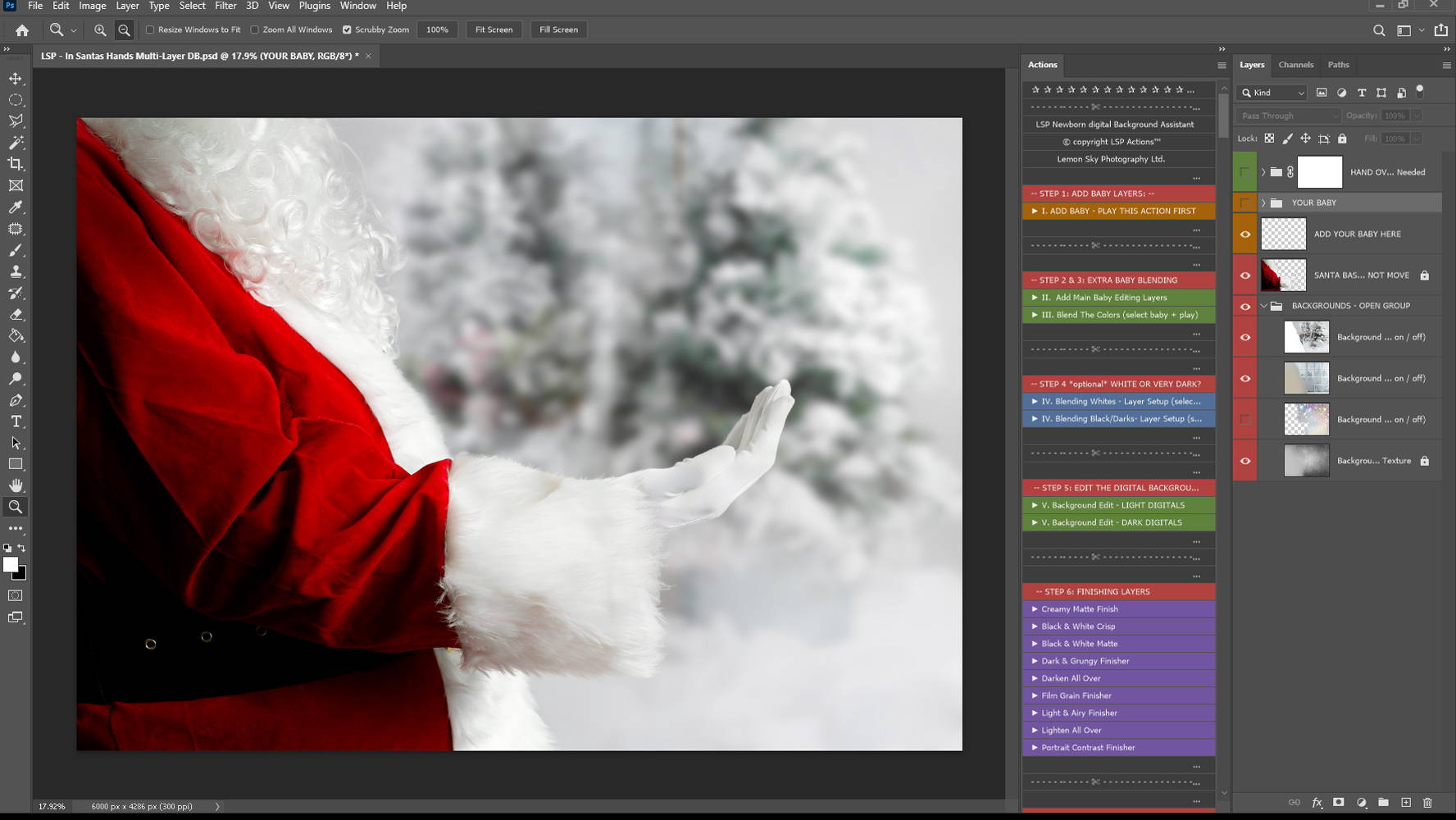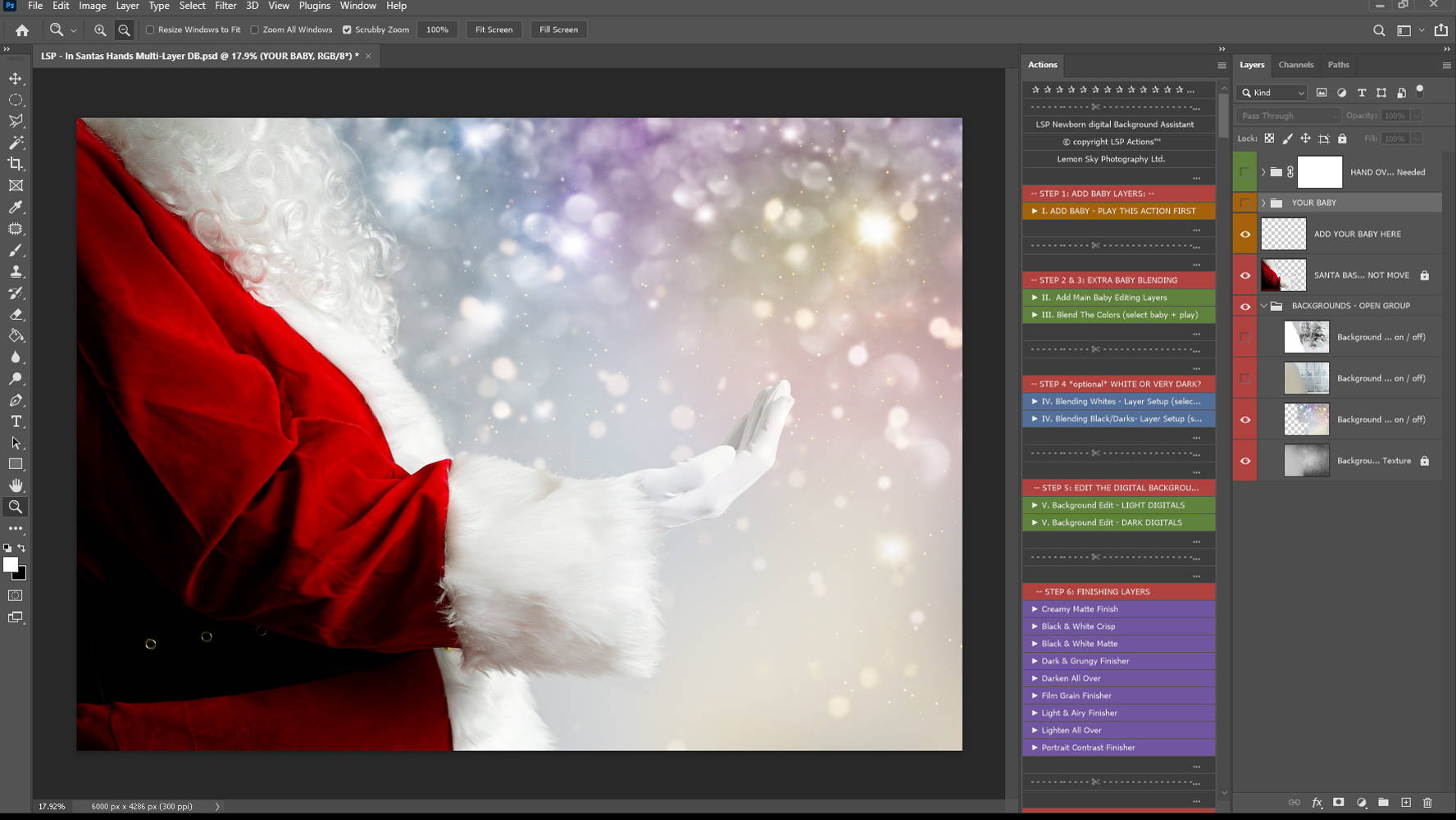 SINGLE PAYMENT

Forget subscription fees! This one-time purchase is yours for life and comes with unlimited free upgrades
INSTANT DIGITAL ACCESS

Your files are sent straight to your inbox and are also available from your account any time
USE WITH PHOTOSHOP

Loads up right away. Compatible with Elements 14+ CS5/6 and CC. Works on both Mac and PC.
STEP-BY-STEP VIDEO TUTORIALS

Follow along with the easy to follow, guided video tutorials anytime on the LSP Actions Youtube channel
Edit Baby into Santa's Hand
Multi-Layer Digital Background for Photoshop
Is there anything more adorable than a sleeping babe nestled into Santa's hand? Add your baby image in seconds for a truly one-of-a-kind Christmas shot your clients will treasure for years to come.
Probably the easiest ever digital background to edit, thanks to the addition of extra layers. This means you can simply add baby in and mask. That's it! Very little other editing is needed, so this is perfect for beginners too. Choose from 4 different backgrounds, all included within the one digital - simply turn them on or off to see which suits your baby image. You can drop your own background behind Santa too!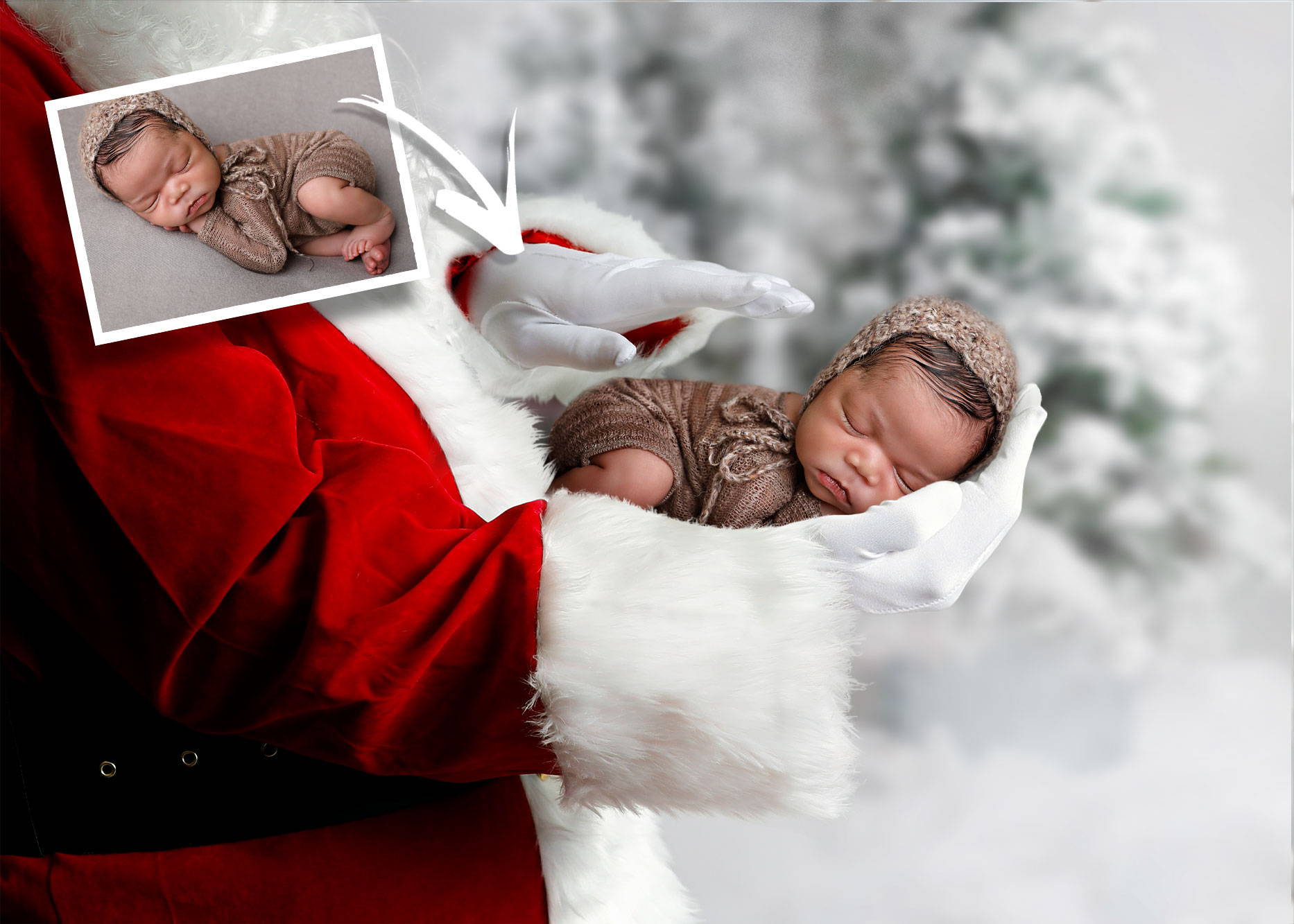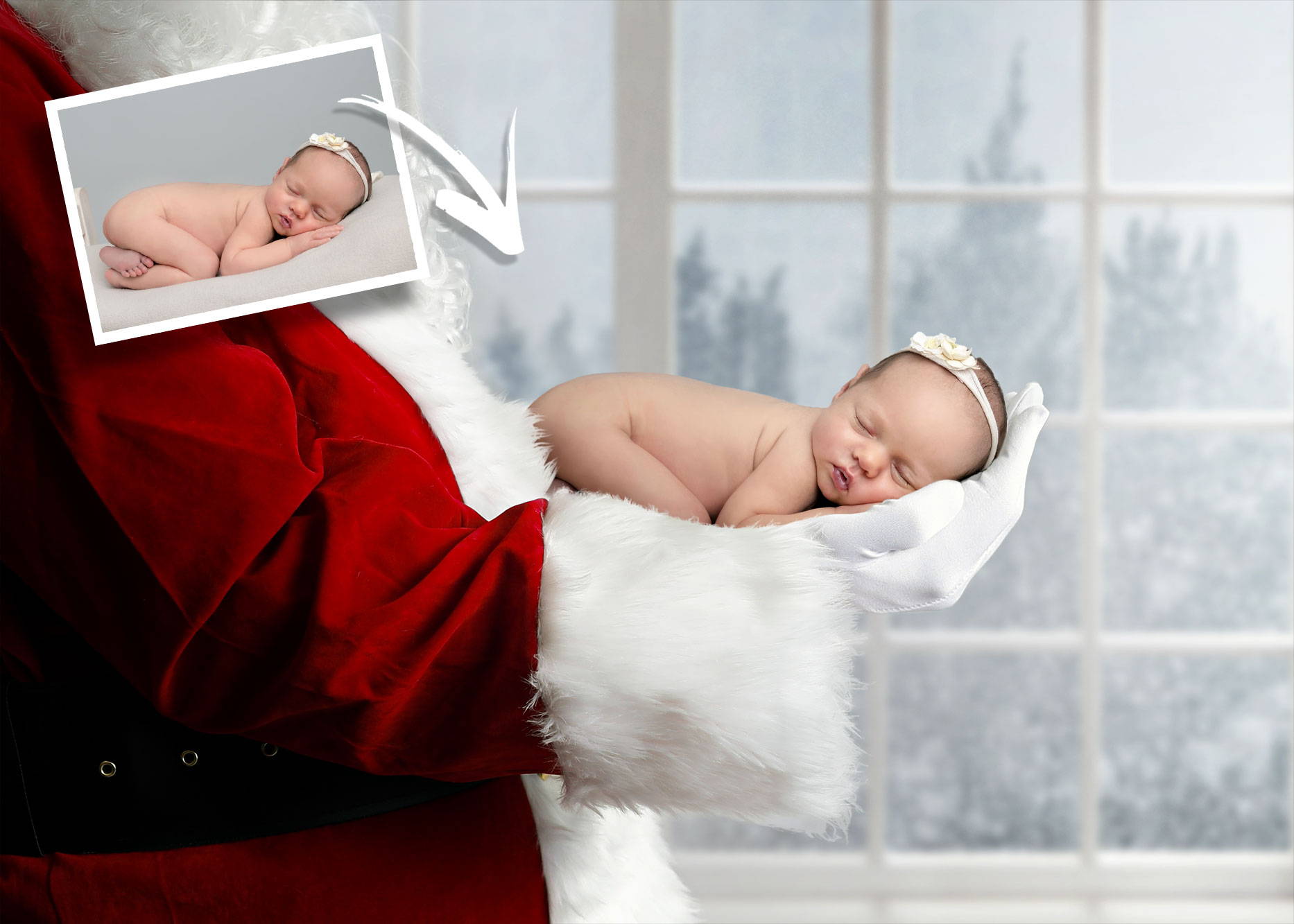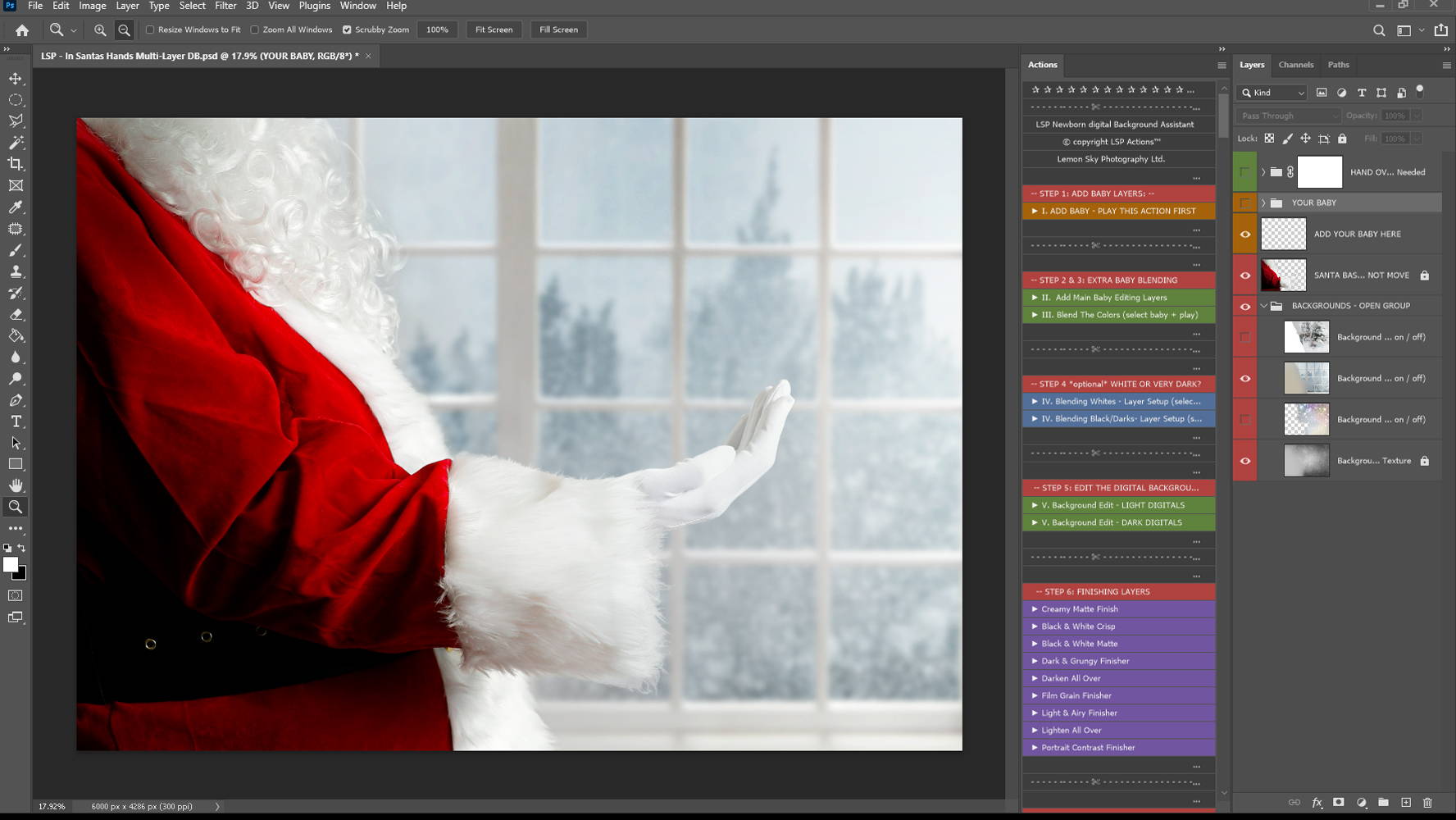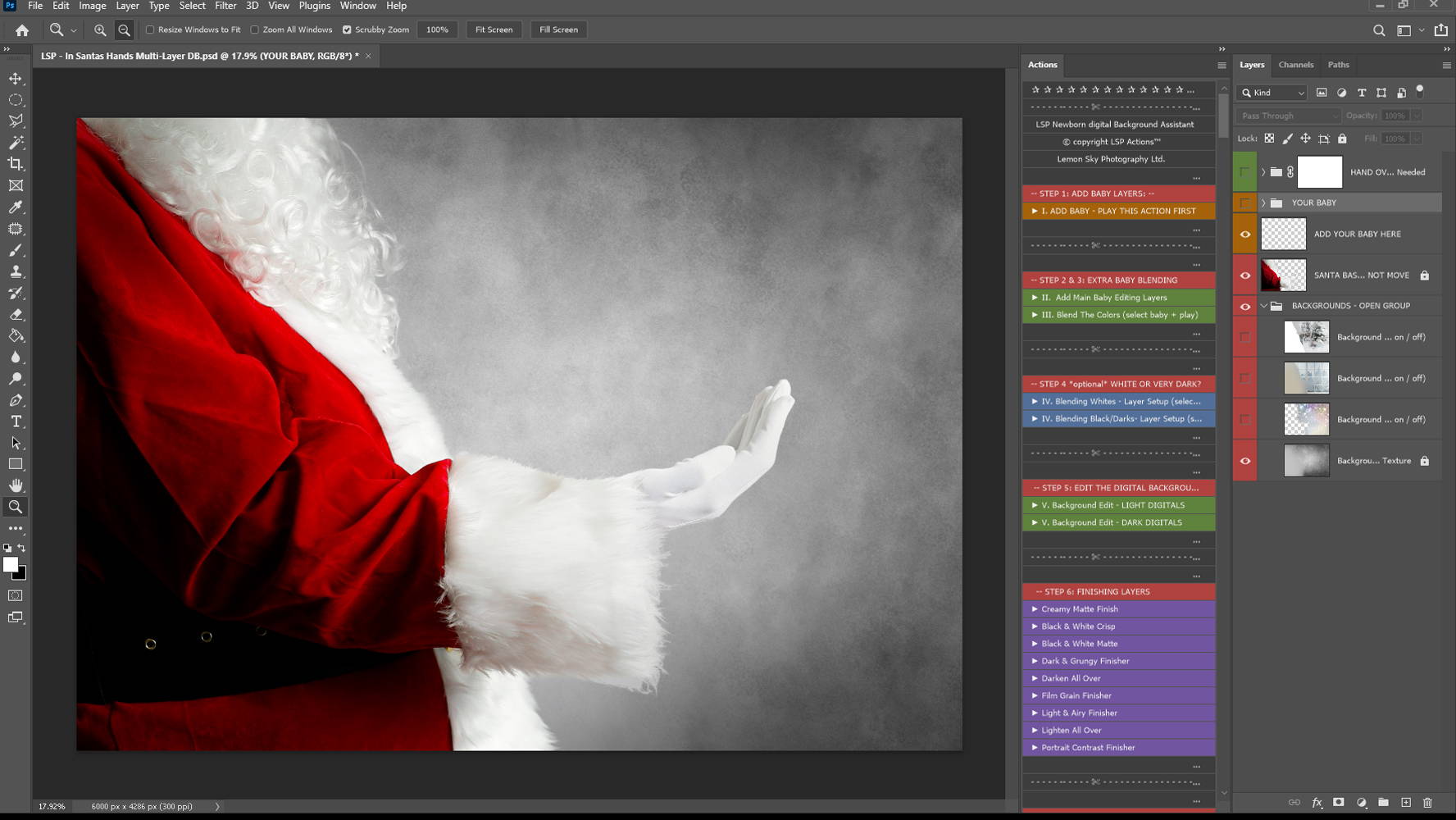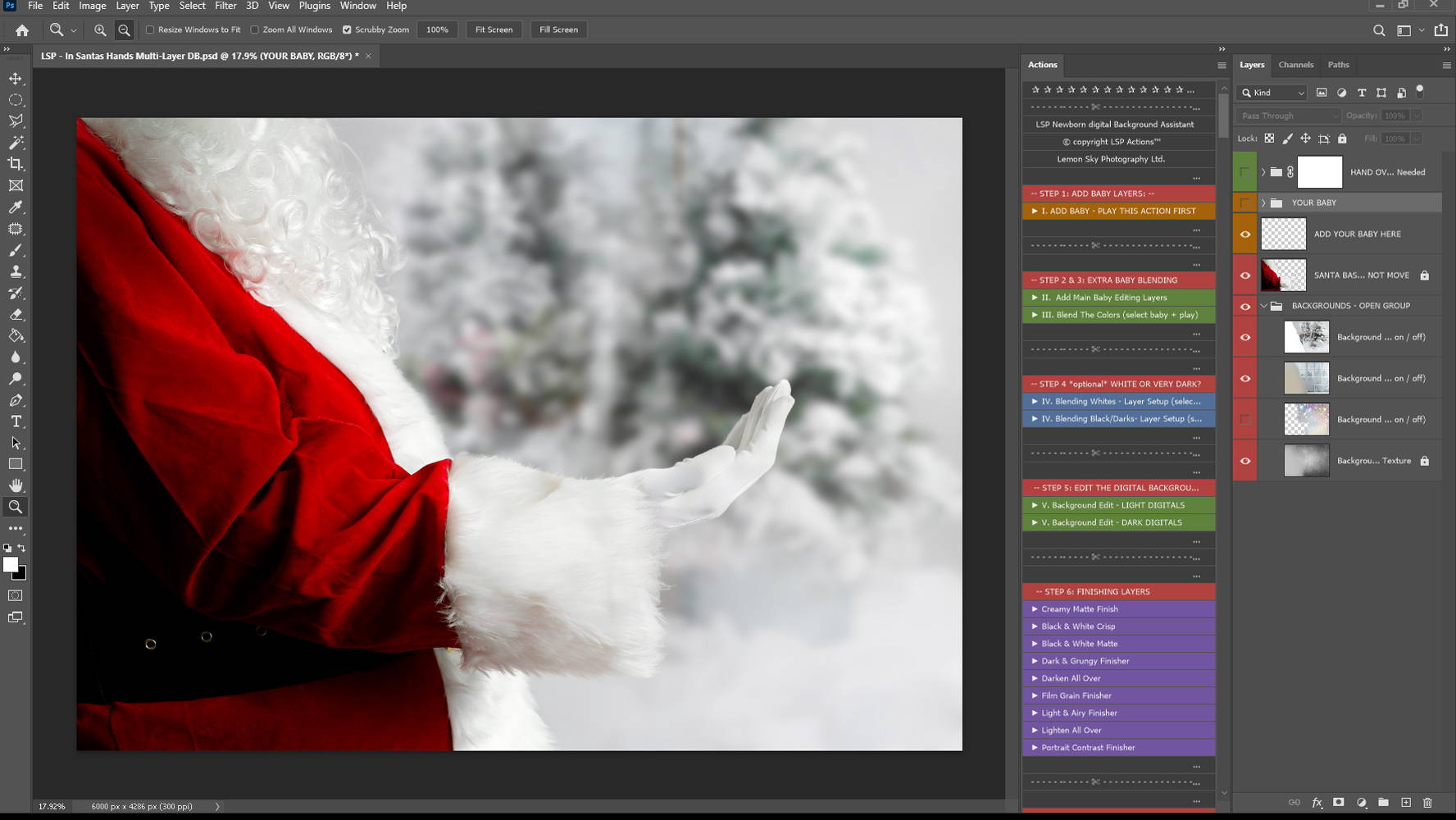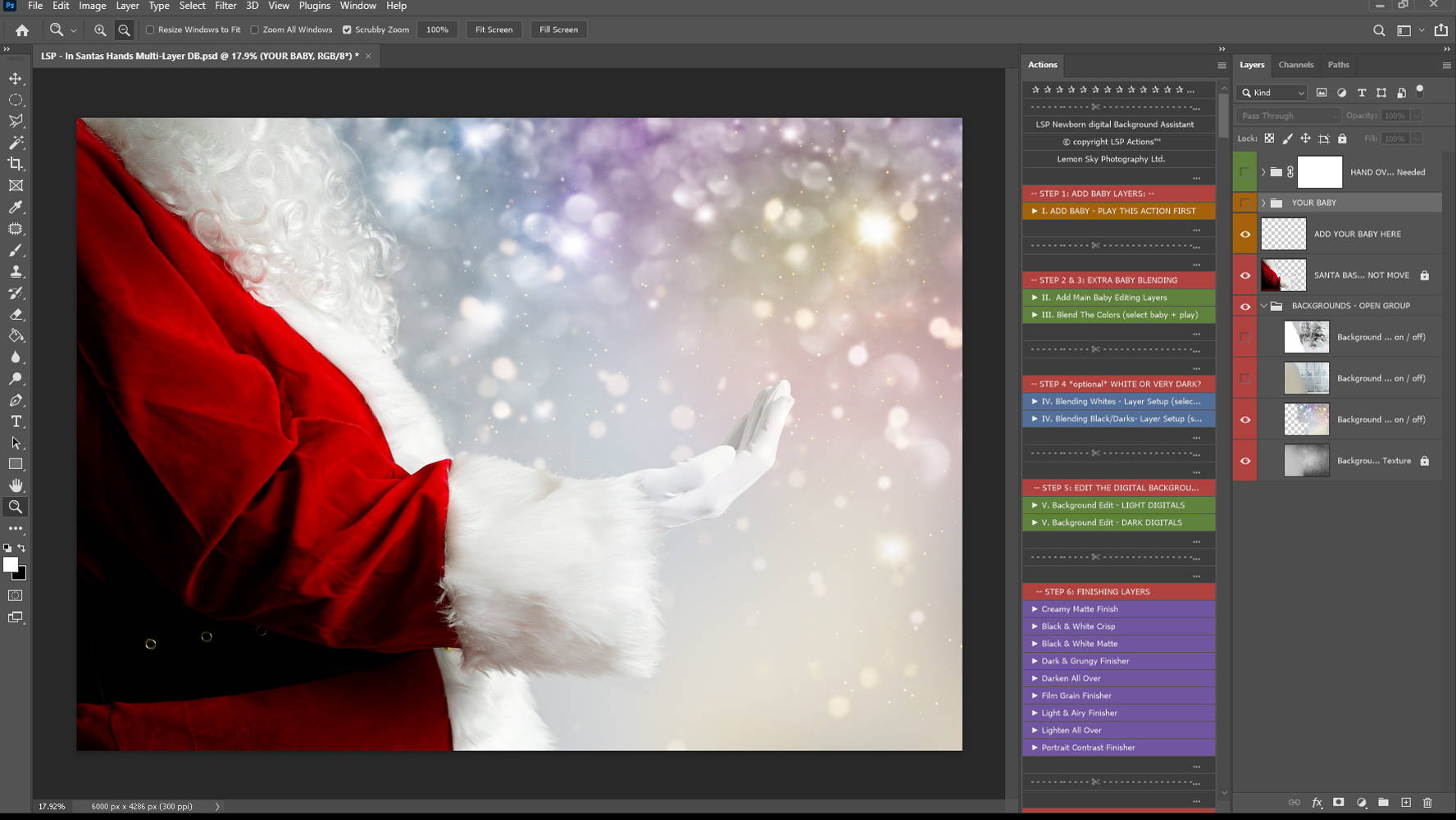 Santa was shot in Ana Brandt's Tustin Studio and lovingly adapted for your newborn images by Lauren at Lemon Sky.
This fine art multi-layered digital background file for Photoshop is ideal for newborn babies shot in the "tushie up" pose. A must for all photographers this Christmas Season.
Instant digital download, keep for life, and use for all your little newborn clients this year.
You don't have to be a Photoshop expert to use this, thanks to the addition of extra layers and the detailed tutorial video included. With this gorgeous high resolution file, you can create this stunning Christmas composite for your clients in just a few clicks!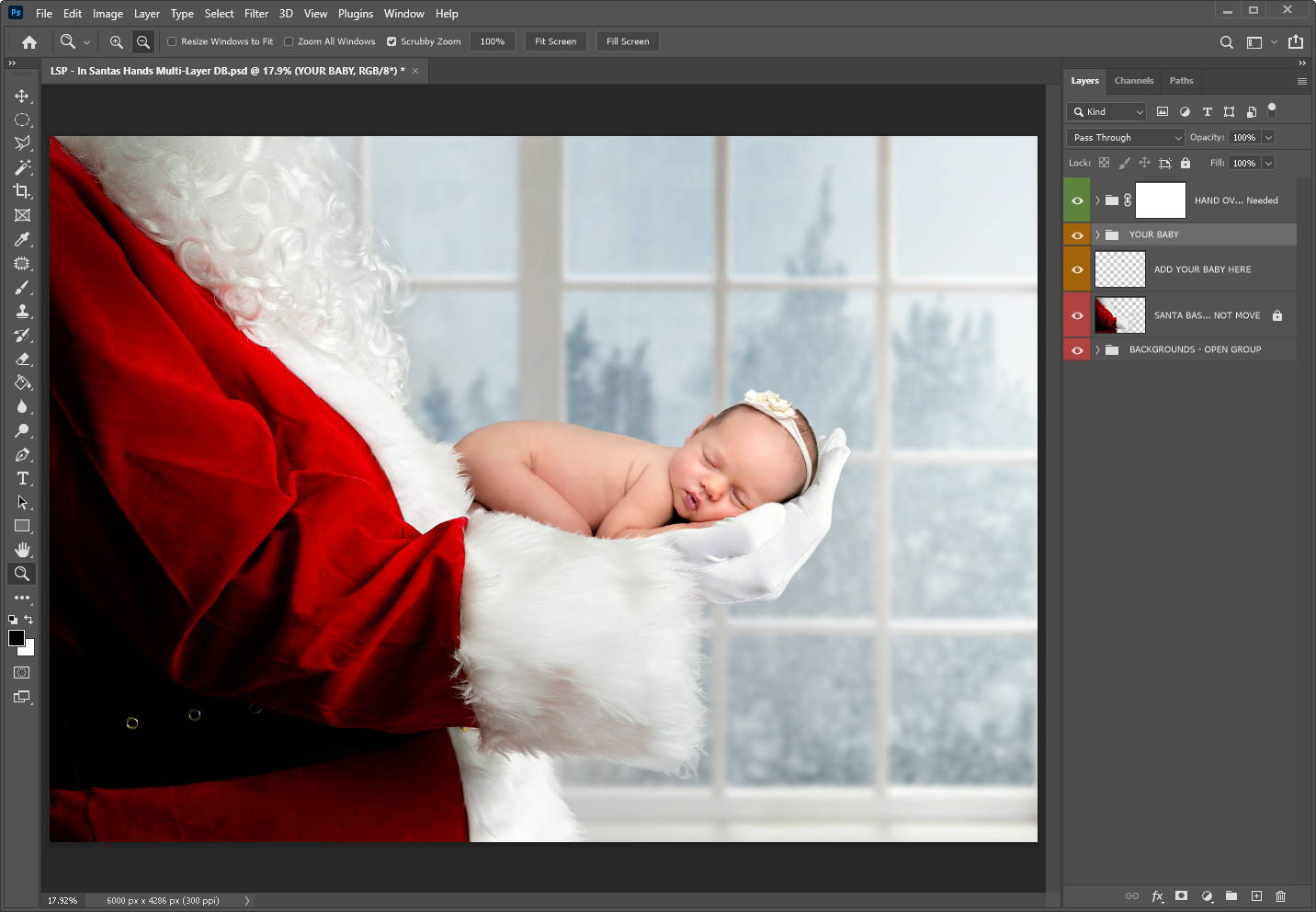 Multi-Layer Santa's Hands Photoshop File
Easy-to-load Photoshop image file that is layered for convenience of adding baby quickly and easily.
Choose from 4 different background options (or add your own!). Santa's hands are nested so that when you add baby in the right place, he or she automatically appears to be held by Father Christmas. All you need to do is add and mask - the video will show you exactly how to do this if you're a beginner!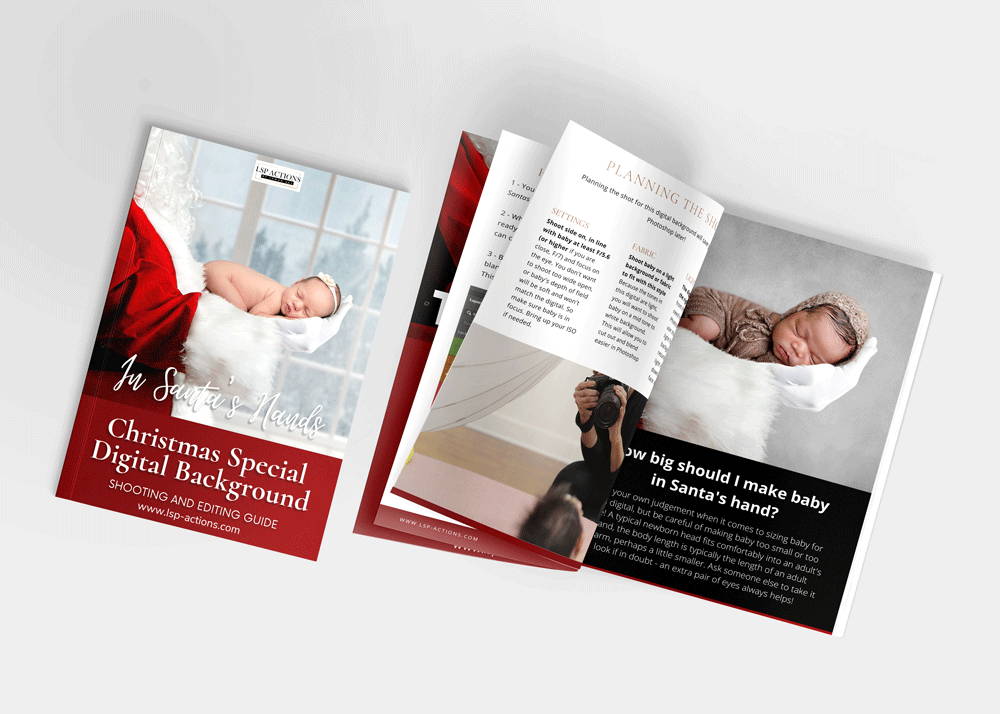 Get up and running right away with this complimentary PDF Guide.
The guide includes image examples, shooting tips, editing help and more!
Learn exactly how to shoot for this digital, how to pose baby, how to size baby into Santa's hand and more!
Complete, start-to-finish videos tutorial that goes at your pace. Anyone can follow along with this, even beginners!
Lean how to load the file into Photoshop, what each layer does and how to add baby seamlessly with this start-to-finish video lesson. This video is available to watch anytime online and also within your download as a high res MP4 file. [This video is in English]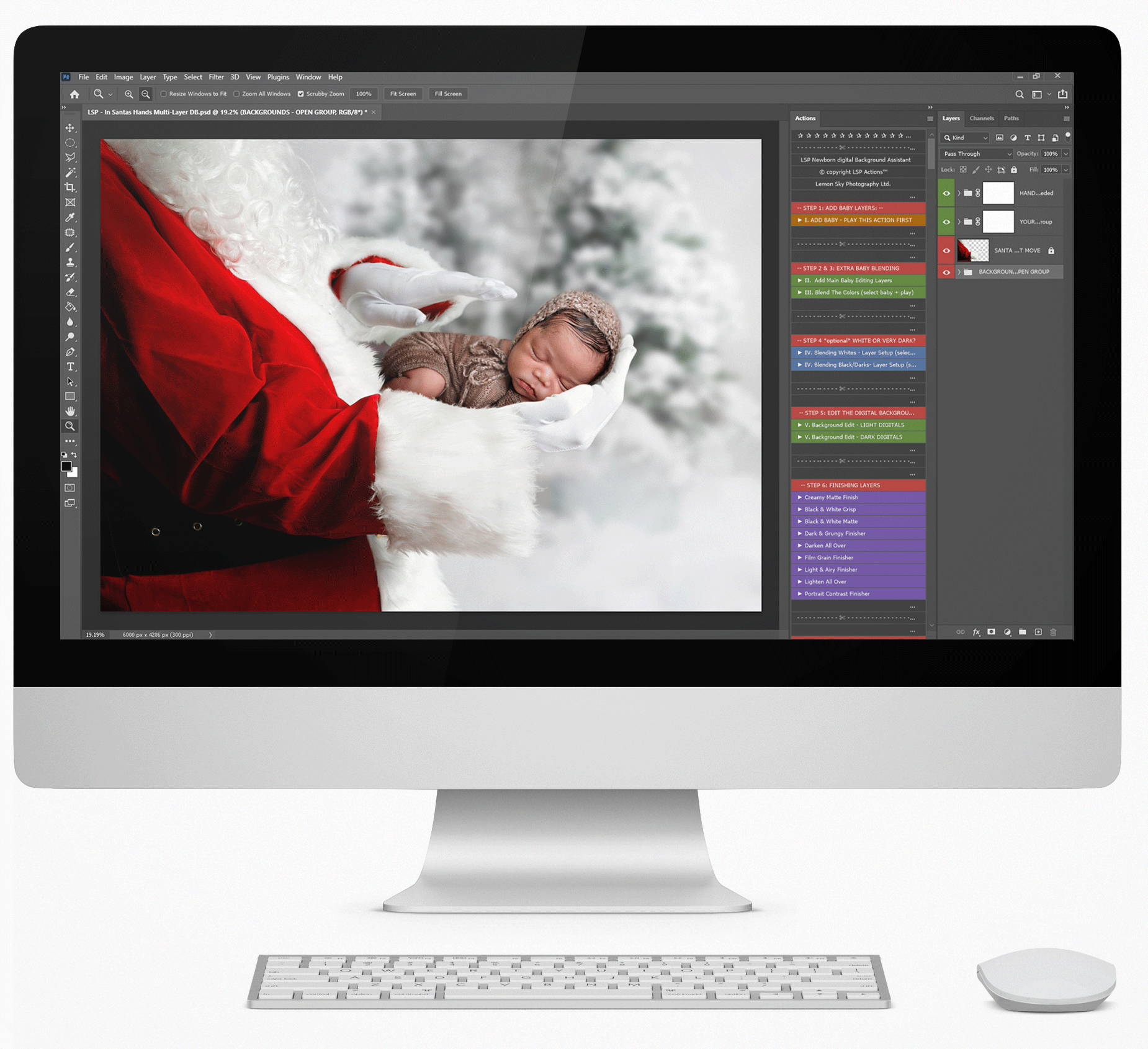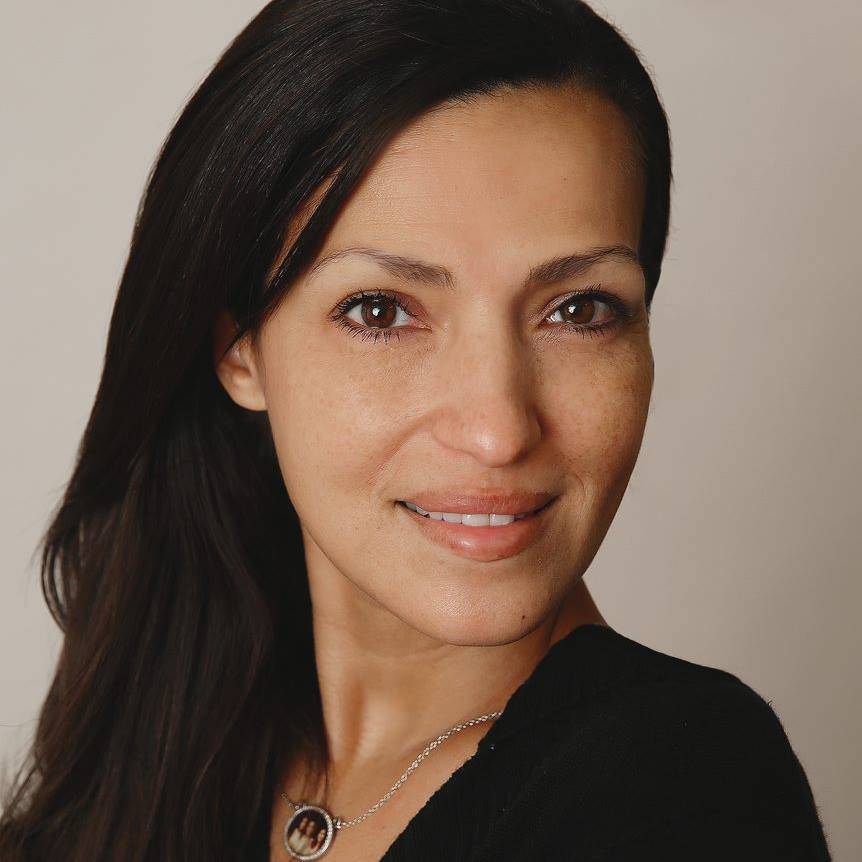 "Right now, we need to watch our budgets whilst still growing and evolving our style. Having high quality and flexible digital backgrounds to hand allows us to increase our portfolio and maximize our offerings to clients.
The innovative addition of extra layers means you can create limitless looks. You can constantly transition and share new, unique images for your clients!"
- ANA BRANDT
All you need is Photoshop to get started! You can watch these videos online any time you like.
VIDEO 1: Complete start-to-finish tutorial (9 minutes)
(This video is also included in your download)
VIDEO 2: A Fast Overview for those who are used to editing digitals [4 minutes]
SINGLE PAYMENT - Forget subscription fees! This one-time purchase is yours for life and comes with unlimited free upgrades
INSTANT DIGITAL ACCESS - Your files are sent straight to your inbox and are also available from your account any time
USE WITH PHOTOSHOP - Loads up right away. Compatible with Elements 14+ CS5/6 and Creative Cloud. Works on both Mac and PC.
STEP-BY-STEP VIDEO TUTORIALS

Follow along with the easy to follow, guided video tutorials anytime on the LSP Actions Youtube channel