How to use digital backgrounds for newborn photographers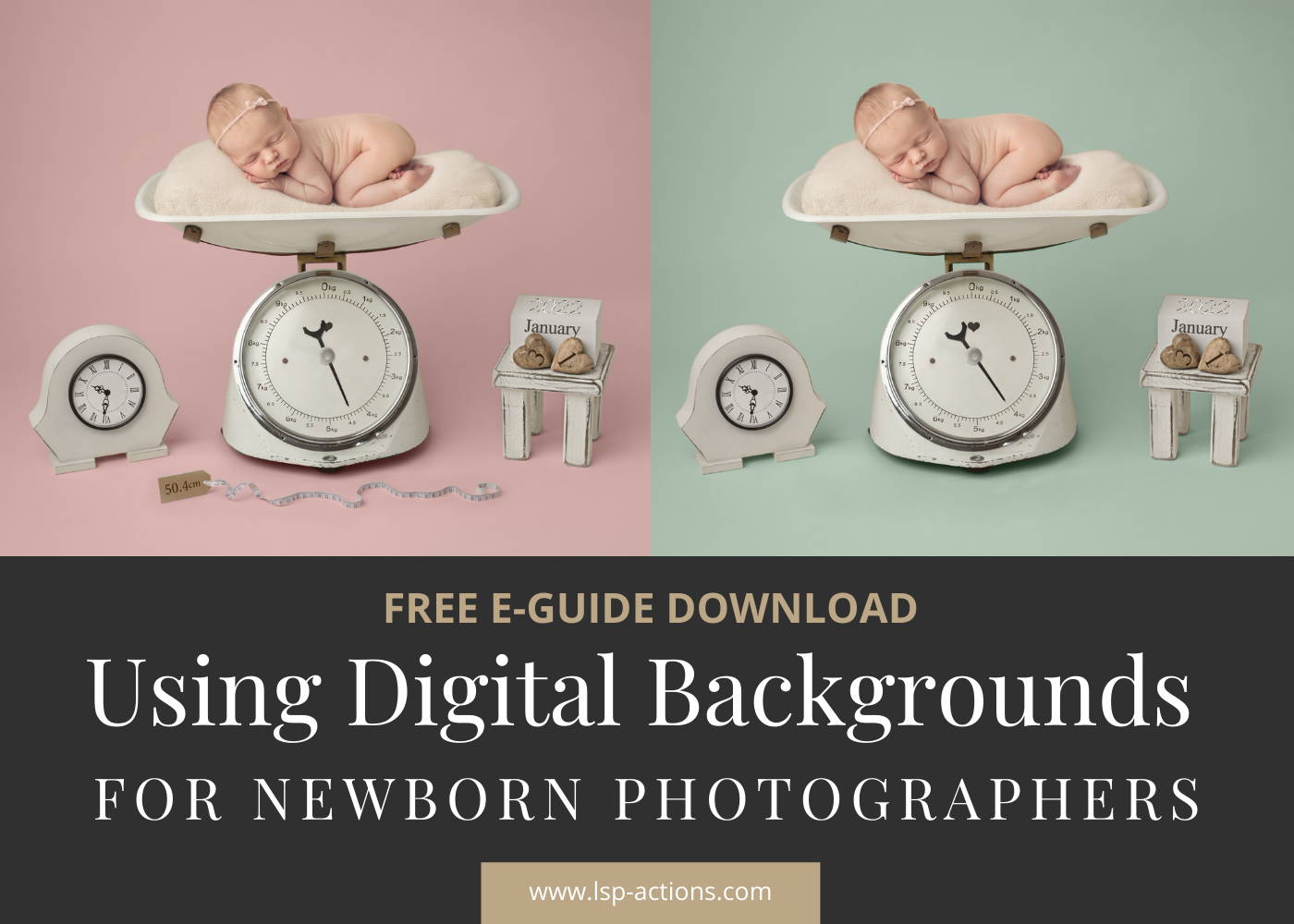 Digital Backgrounds have opened up a whole new world of possibilities for Newborn Photographers to add gorgeous variety to their sessions in the form of digital composites.

When used correctly, you can create endless art-pieces for your clients. It's never been easier to cater for specific requests, share stunning new images that set you apart from the competition and really make your work stand out - all without spending a fortune on props (not to mention the storage space saved)!
Utilizing digital backgrounds within your session flow means your session time is quicker and more streamlined, as the baby can be posed safely in your studio in various positions, then edited into limitless scenes in Photoshop afterwards.
BUT what happens if you are struggling to blend baby with the digital image? Or the tones don't match? Or if you are self proclaimed "terrible" at composites (I'm sure you're not).
>> DOWNLOAD THE FREE 20 PAGE E-GUIDE HERE
If you don't know where to start with compositing baby in, choosing the best digitals, or the steps you need to take during the session to make digital editing easy, then this free 20 page e-guide is for you. Get the guide here for free, or read on below for 4 quick tips to using Newborn Digital Backgrounds.
4 Quick tips for using newborn digital backgrounds
Choosing the right digital backgrounds.
Digital Backgrounds come in many varieties online, from flat files costing a few dollars, to fine art creations from some of the industry's top educators. When purchasing a digital background online, always check the licensing rights and the file size - you want the image to be of a high enough quality to print huge. Always check what is included within the download.
What comes first: Baby or the digital?
Unlike the chicken and the egg scenario, this one is clear: Get the digital first and plan your shot around it. This will save you a TON of time in Photoshop later! Plus the result will look much more realistic because you can match colors and textures in camera first.
When shooting for the digital background, pay attention to the details. Make sure your shooting angle matches, the focus is at least f/5.6 and you're using similar tones and textures.
OK. So you've completed the newborn shoot, got the digital background up on the screen in Photoshop... now what? Learning how to composite realistically in Photoshop is the number #1 most important thing when it comes to editing newborns into digital backgrounds successfully. My top tip is to edit the baby image first (think fixing the skin, correcting the tones and lighting). Then it is a case of placing the baby image over the digital as a new layer. Add a layer mask and use a black brush to carefully "erase" the original background, so you only have baby remaining. Zoom in close to mask the details. If you shot baby on a similar setup, then this part will be very easy. Add a levels or curves layer under the baby layer, but above the digital layer, to add in natural shadows. Pull the shadows to the right to darken, then invert the mask and paint on in white.
If creating realistic newborn composites using digital backgrounds feel like a mystery to you, don't worry you're in good hands. Click the button below to receive a complete breakdown on how to shoot for and edit newborn digital backgrounds.
This free 20 page guide includes:
• Choosing the right digital backgrounds
• What comes first: baby or digital?
• Shooting and lighting tips
• Editing in photoshop
• … and lots more!
Including digital backgrounds as a part of your newborn photography sessions is a great way to maximize your profit and adds refreshing variety to your client galleries. The possibilities are literally limitless with what you can create. Editing newborns into digital backdrops is something photographers of all levels can enjoy and learn from. We are creatives at heart and designing beautiful digitals for our clients can keep us inspired and our content fresh.
Lauren Bennett

Editing Tutor & Photographer at www.lsp-actions.com
Want to save this handy post for later? Click below to pin it.
---