FALL DIGITAL BUNDLE-
Harvest, Pumpkins & Apples

Apple Crate, Harvest & Pumpkin Patch - Layered Digital Background Bundle | For Photoshop CS5 - CS6 - CC
Apple Crate, Harvest & Pumpkin Patch
The Fall Collection Digital Background Bundle
This set of 3 fine art digital backgrounds have been designed with the creative newborn photographer in mind. Each background has been shot and lovingly adapted for digital art by Lauren Bennett in England.
Sometimes, we want to create something spectacular for our clients, but are limited by a small prop collection, storage or - most importantly - time. Download this fall-themed Autumn bundle for babies, customize easily and make it your own.
These 3 high resolution multi-layered digitals are ideal for adding that personal touch to your client's galleries and large, so you can print as wall art. Use the Fall Collection digital background bundle to expand your portfolio, create a special request and have unique, eye catching images to share and attract clients.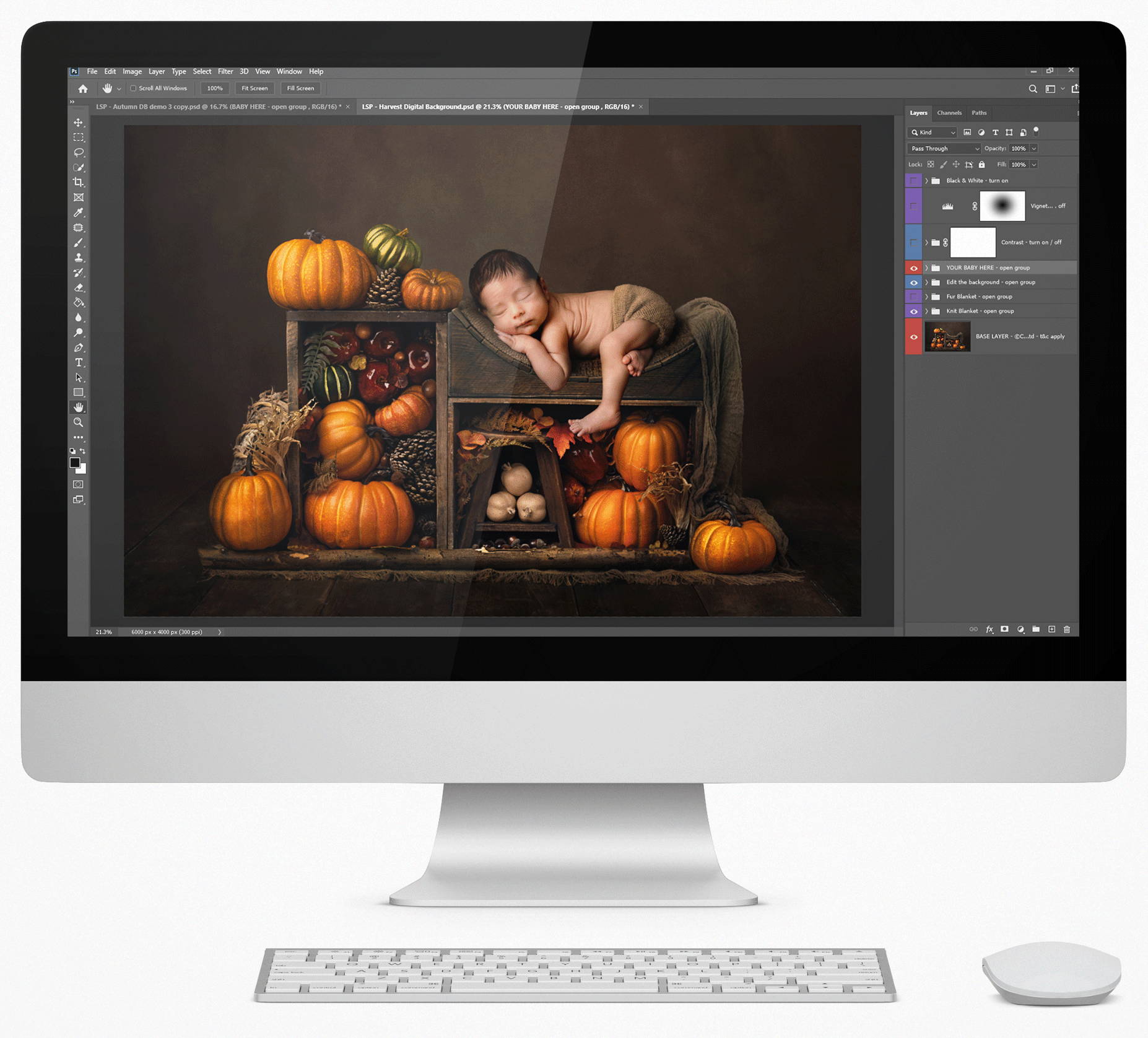 3 Photoshop Files - Apple Crate | Harvest | Pumpkin Patch. Each is multi-layered in a high resolution that allows you to add baby in and mask. You can change and turn on / off the layers for a fully customizable, easy edit with literally unlimited results!

7 Video tutorials included for you to download. You can also watch online on this page (below) or on Youtube.

28 page PDF guide with shooting tips and tricks
Your download contains all 3 Autumnal digital backgrounds: Apple Crate, Harvest and Pumpkin Patch. Each is a Photoshop file and has so many layers to easily customize, blend baby and create an image unique to you. You can change from blanket to fluff or fur, change the colors and style effortlessly. You can easily adapt the tones and colors to your vision and create unique images to suit your shooting style by simply turning the layers on or off - it's even easier than it sounds!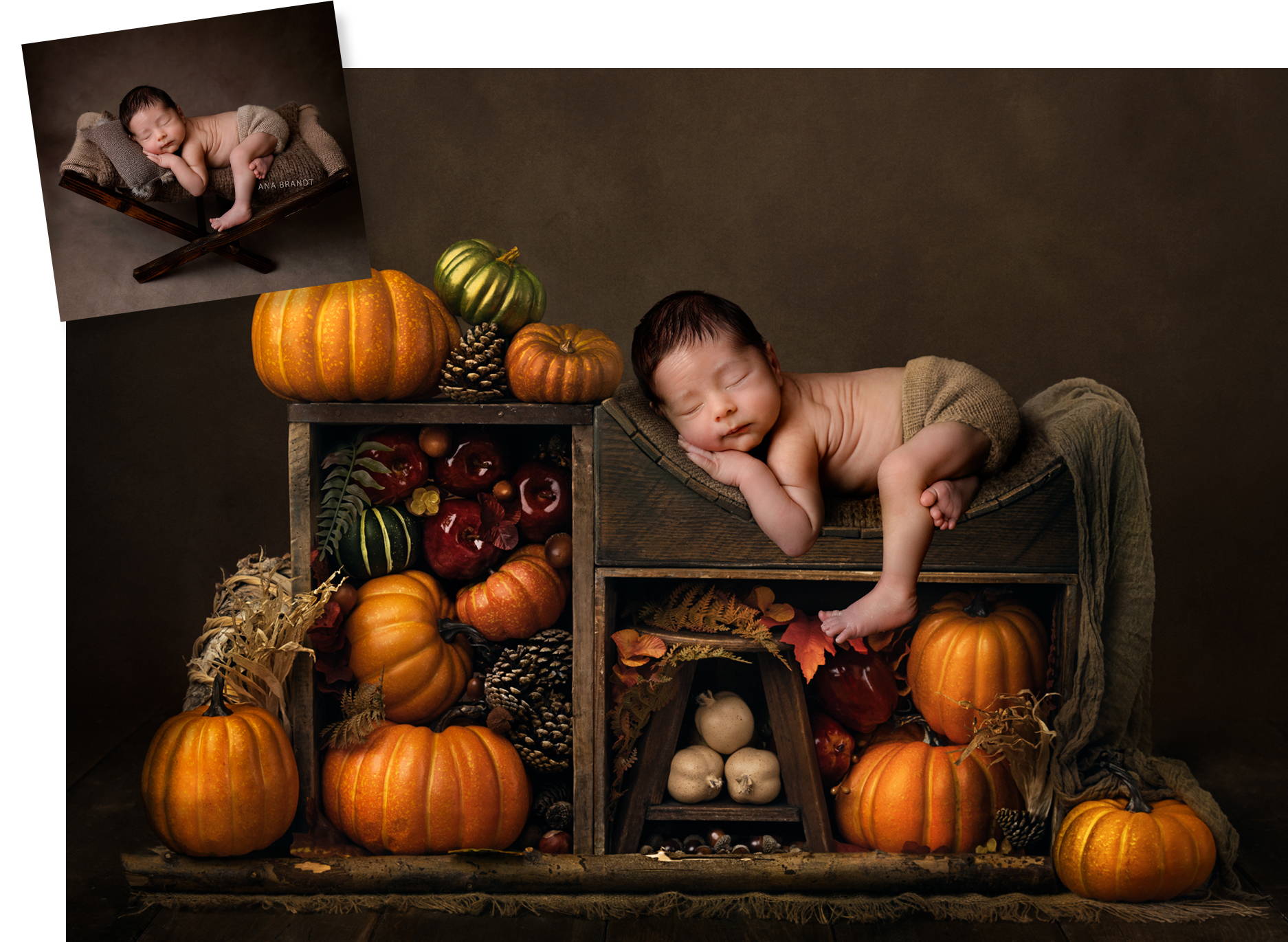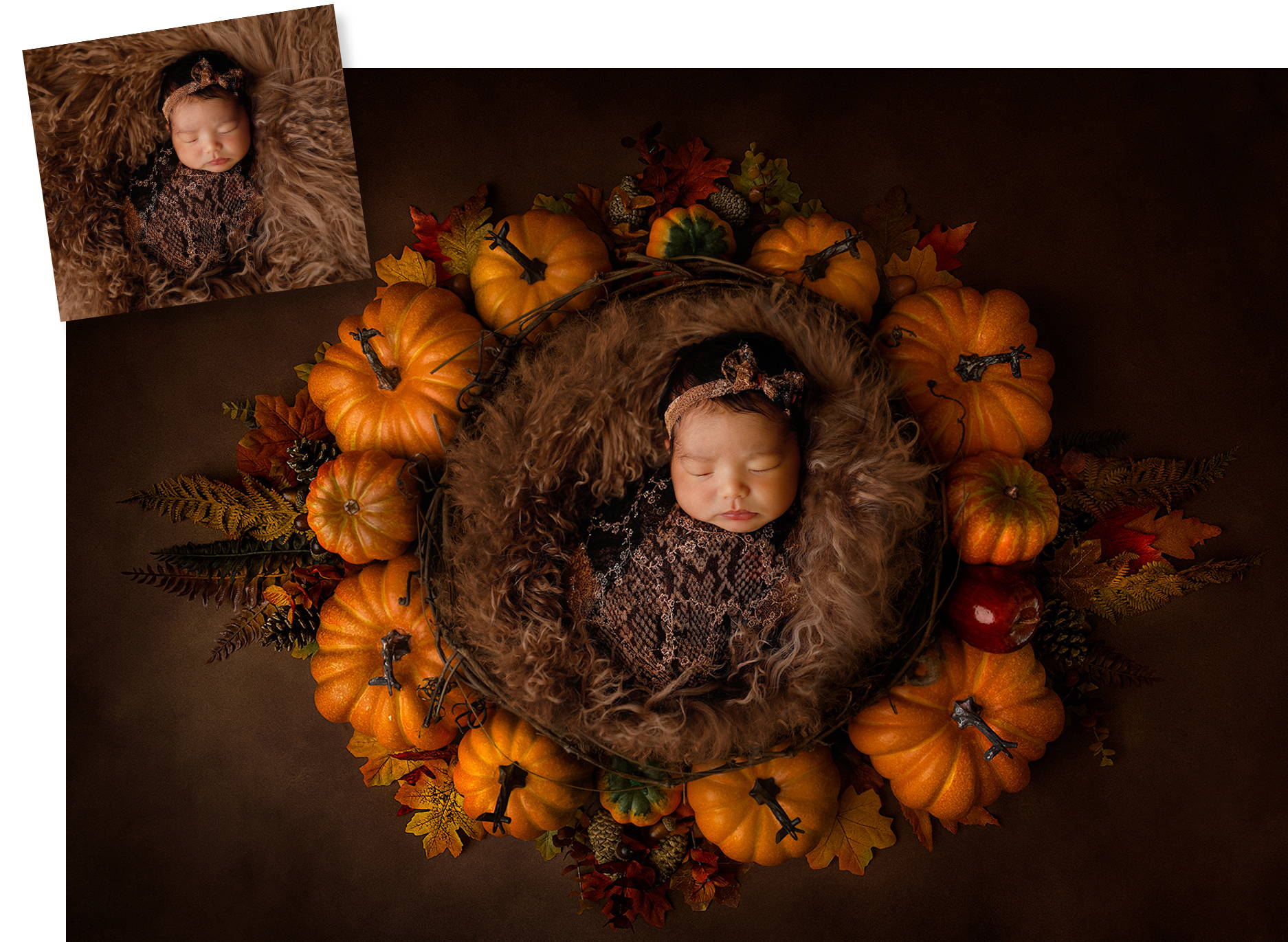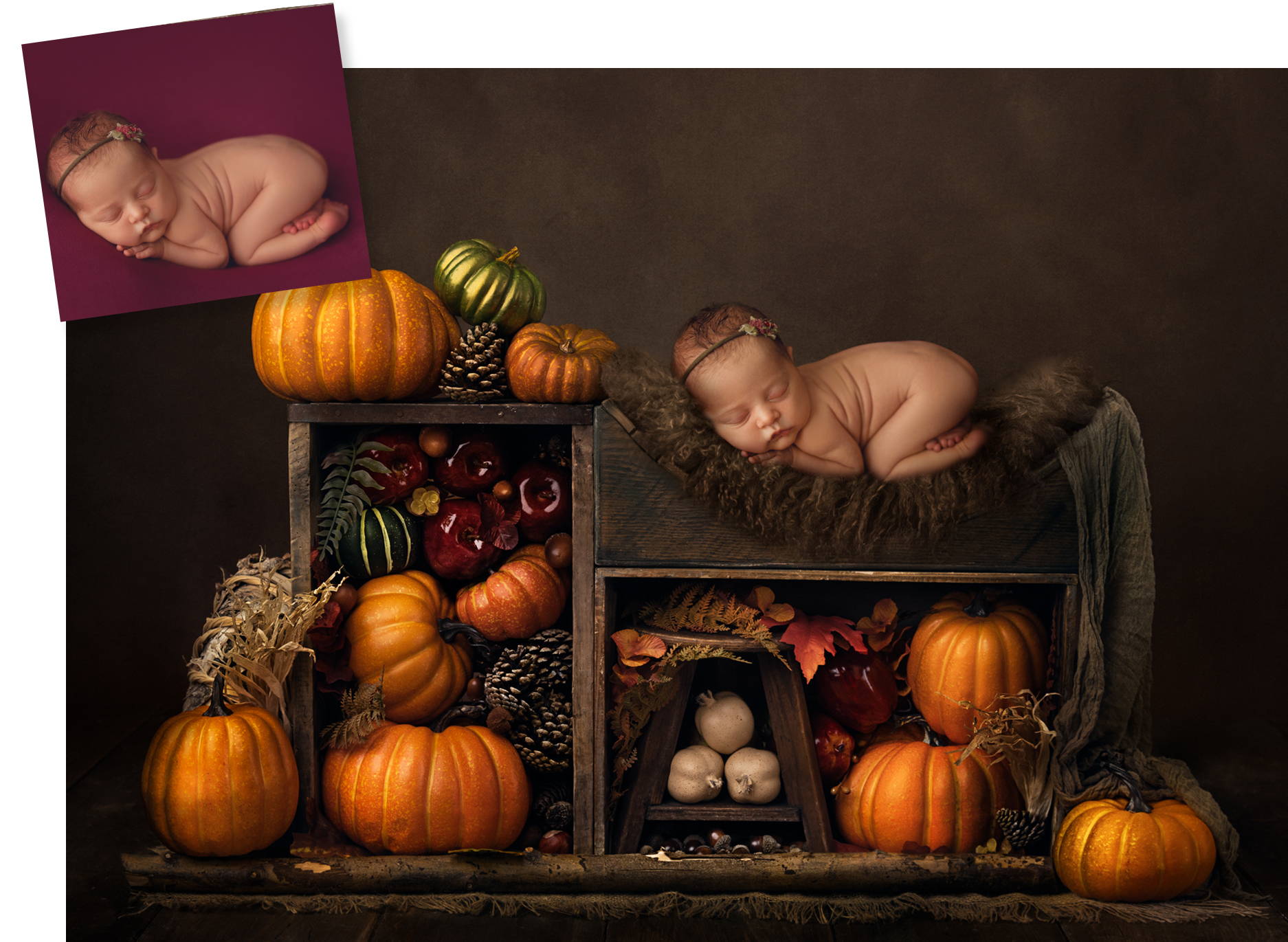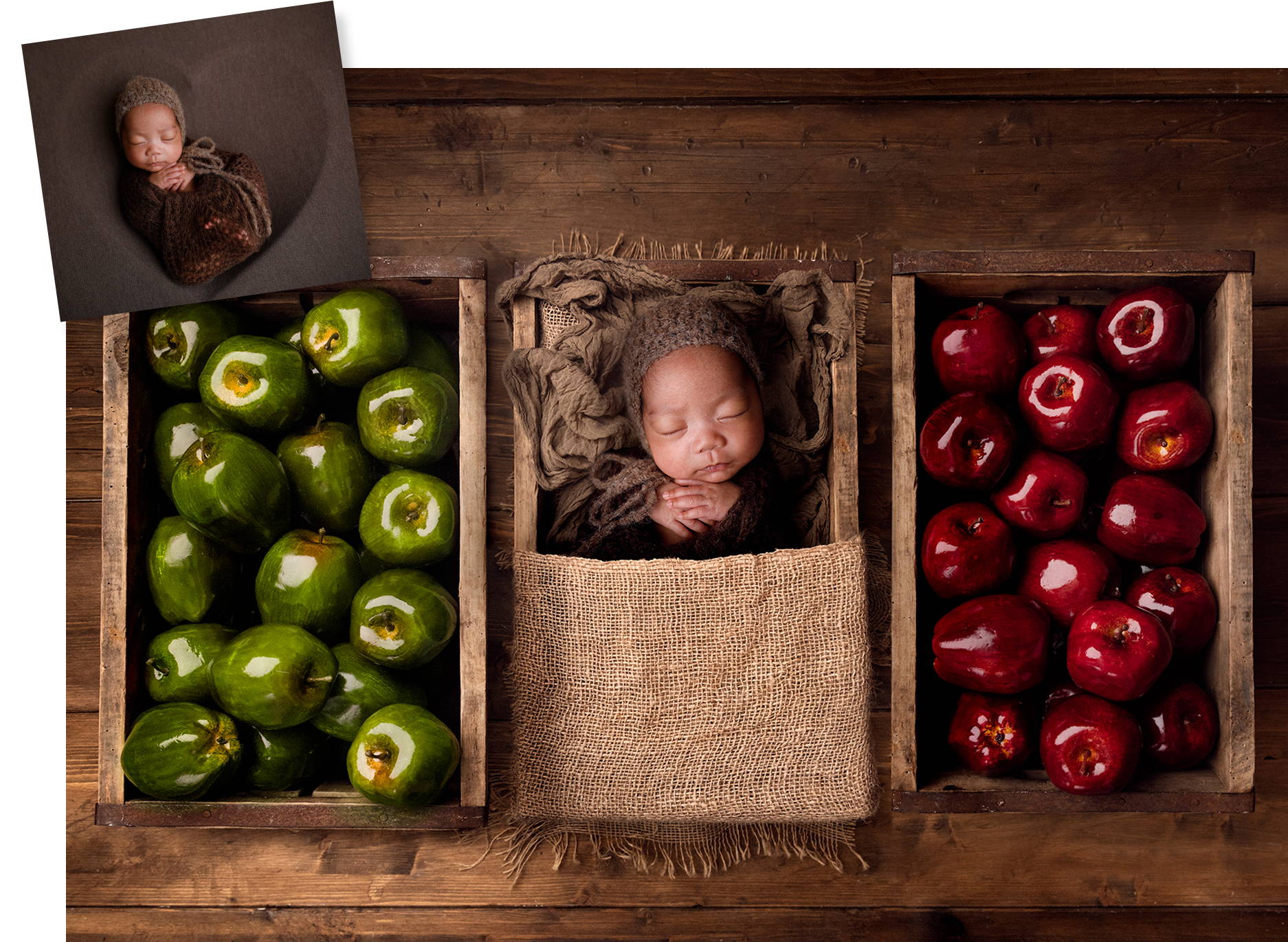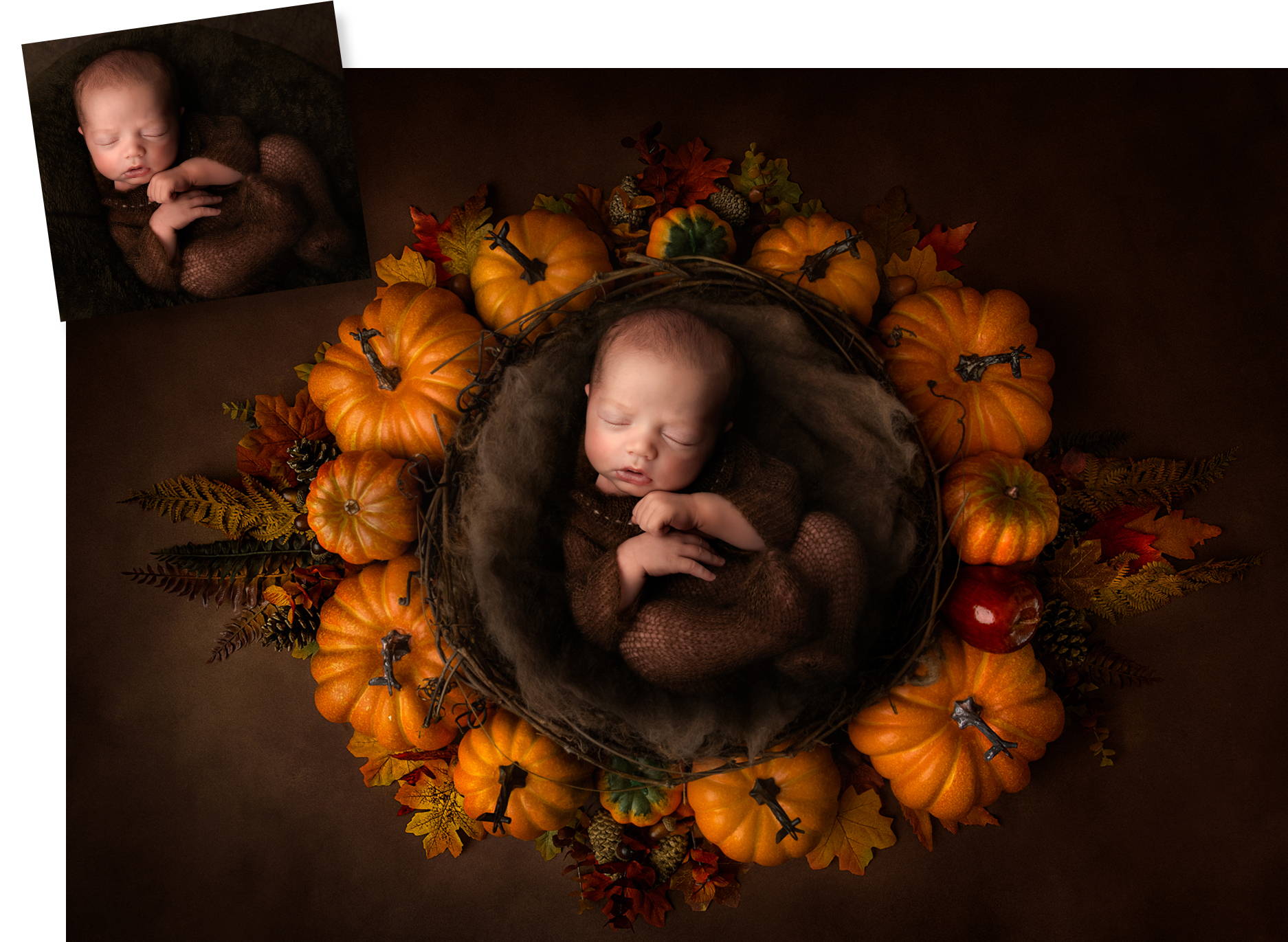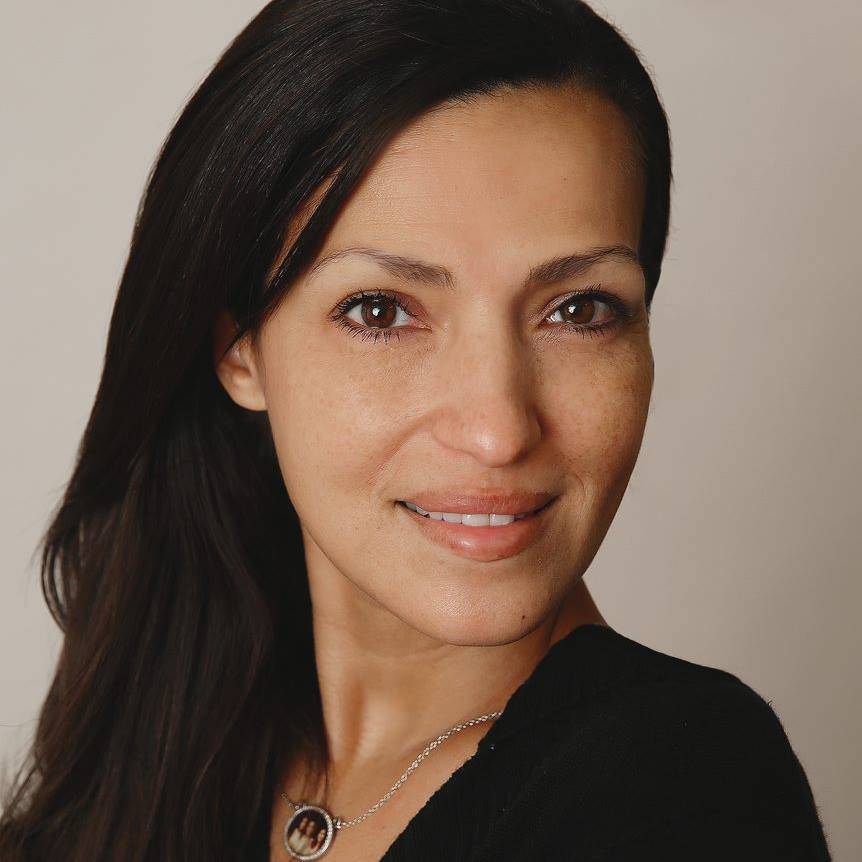 "Right now, we need to watch our budgets whilst still growing and evolving our style. Having these digital backgrounds to hand allows us to increase our portfolio and maximize our offerings to clients.
The innovative addition of extra layers means you can create limitless looks. You can constantly transition and share new, unique images for your clients, from one digital"
- ANA BRANDT
How to use -

VIDEO GUIDES
These multi-layered digital PSD files allow you to create different looks, every time, in just a few clicks - without having to be an expert. All you need is Photoshop to get started!

You can watch these videos online any time you like. You will also a receive a copy of these videos to download upon purchase.
APPLE CRATE VIDEO GUIDES - Click To Open
VIDEO 1: Overview (5 minutes)
VIDEO 2: Adding baby in (12 minutes)
HARVEST VIDEO GUIDES - Click To Open
VIDEO 1 - Overview (7 minutes)
VIDEO 2 - How to add baby and blend into the image: 2 edits 20 minutes
"The BEST digital backgrounds for newborn photographers hand's down. These are all incredible and so easy to use. My clients get giddy with excitement over these digitals and always want to order a large canvas or acrylic for the wall"
- S.J. Photography
SINGLE PAYMENT, YOURS FOR LIFE

Forget subscription fees! This one-time purchase comes with unlimited free upgrades
INSTANT ACCESS

Your digital download is sent straight to your inbox right away and is available from your account any time
READILY COMPATIBLE

Works on both Mac and PC. For the best results use with Desktop Photoshop CS5, CS6 or CC
STEP-BY-STEP VIDEO TUTORIALS

Follow along with the guided video tutorials anytime on the LSP Actions Youtube channel




Customers also purchased: