The Photographer's Digital Image Library
Choose from thousands of AI-generated images to download and use in your creative photography editing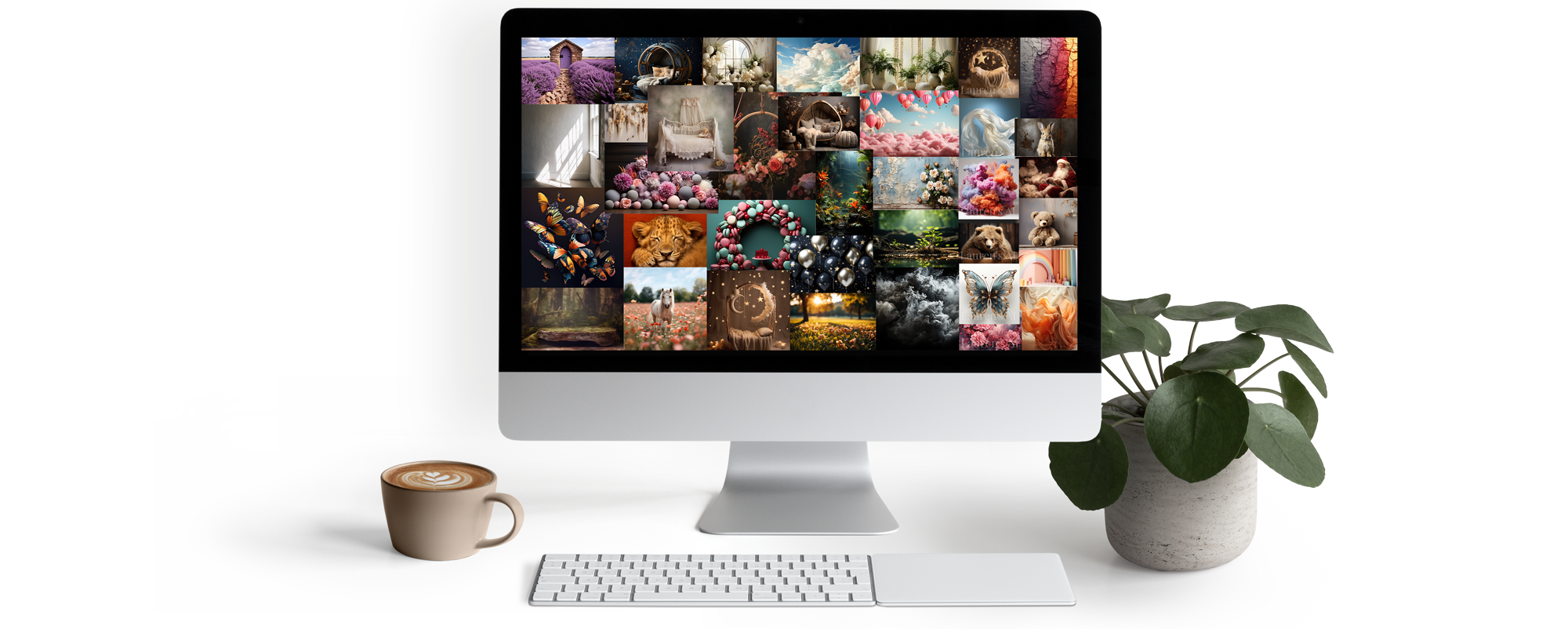 Tired of wasting money on AI-Generated backgrounds and scenes for sale online that just won't work for your project? (and maybe don't even come with "how to" instructions)
Or maybe you are new to the AI-game and wish you could have a library of done-for-you images without having to lean about prompts, upscaling, sharpening... 😱
Welcome to EnchantiPix™, The exclusive members-only AI image library crafted with photographers like you in mind, so you can download as many images as you like to use in your creative photography editing.
• Instant access to over 1,600 high-res, ready to use AI generated scenes and backgrounds
• High resolution at 6000px 300dpi
• Unique images created, tested and quality checked for you by the LSP team
• Easy to follow instructions
Ready to step into a wonderland of artistic inspiration?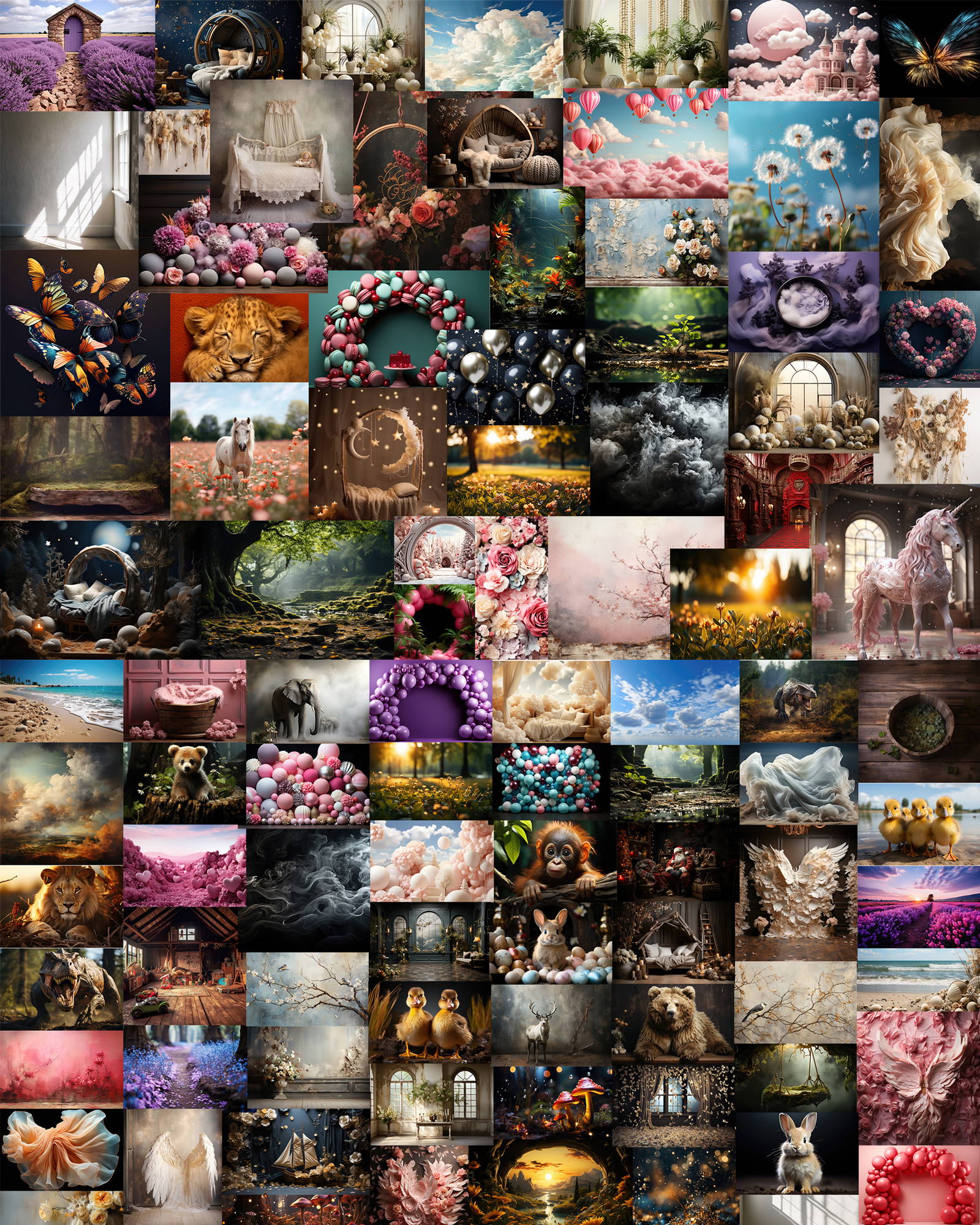 With your EnchantiPix™ membership, you'll unleash your full creative potential. Whether you're working on composite images, adding dreamy backdrops, or crafting enchanting scenes - unlimited access to our AI-crafted digital images means you can breathe new life into your photo editing projects any time you like. There really is no limit on your creativity.
Fresh Artistic Twist: Stand out with images that carry a touch of surreal magic, breathing life into your photography and design.

Unique Images: Each image is meticulously crafted using Midjourney AI technology, ensuring unparalleled scroll-stopping uniqueness.

Time-Saving Magic: Say goodbye to endless searches and tedious image creation and hello to instant inspiration!

Exclusive Membership: Gain access to this carefully curated digital image collection that's only available to EnchantiPix™ members.
1,627
painterly surrealistic digital images you can download right away, including:

As a member of EnchantiPix™ you'll gain instant on-going VIP access to this treasure trove of delightful surrealist JPEG images, all resized and specially curated (via AI) for photographers seeking to take their editing work to new heights. This means no more scouring endless stock sites, scrolling digital images late into the night as your inspiration fades, or spending hours creating your own AI images in Discord.
With EnchantiPix™ at your fingertips, you'll have a constant and captivating collection of creative images to use within your Photoshop editing - saving you valuable time and effort so you can focus purely on the creative side with no limitations!
Plus you get these Bonuses inside worth $197: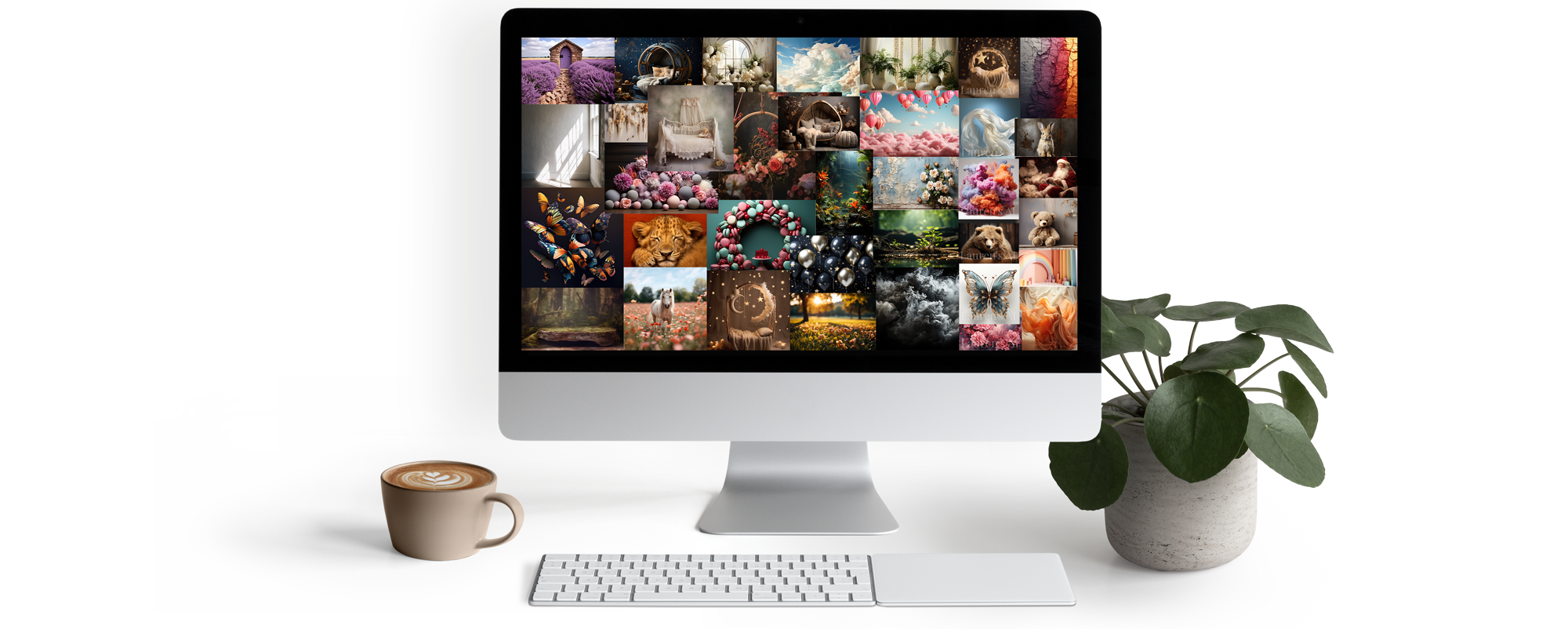 Exclusive discount code for LSP Actions so you can grab your favorite editing tools! Recommendation included for the best Photoshop actions for using with AI Composite images.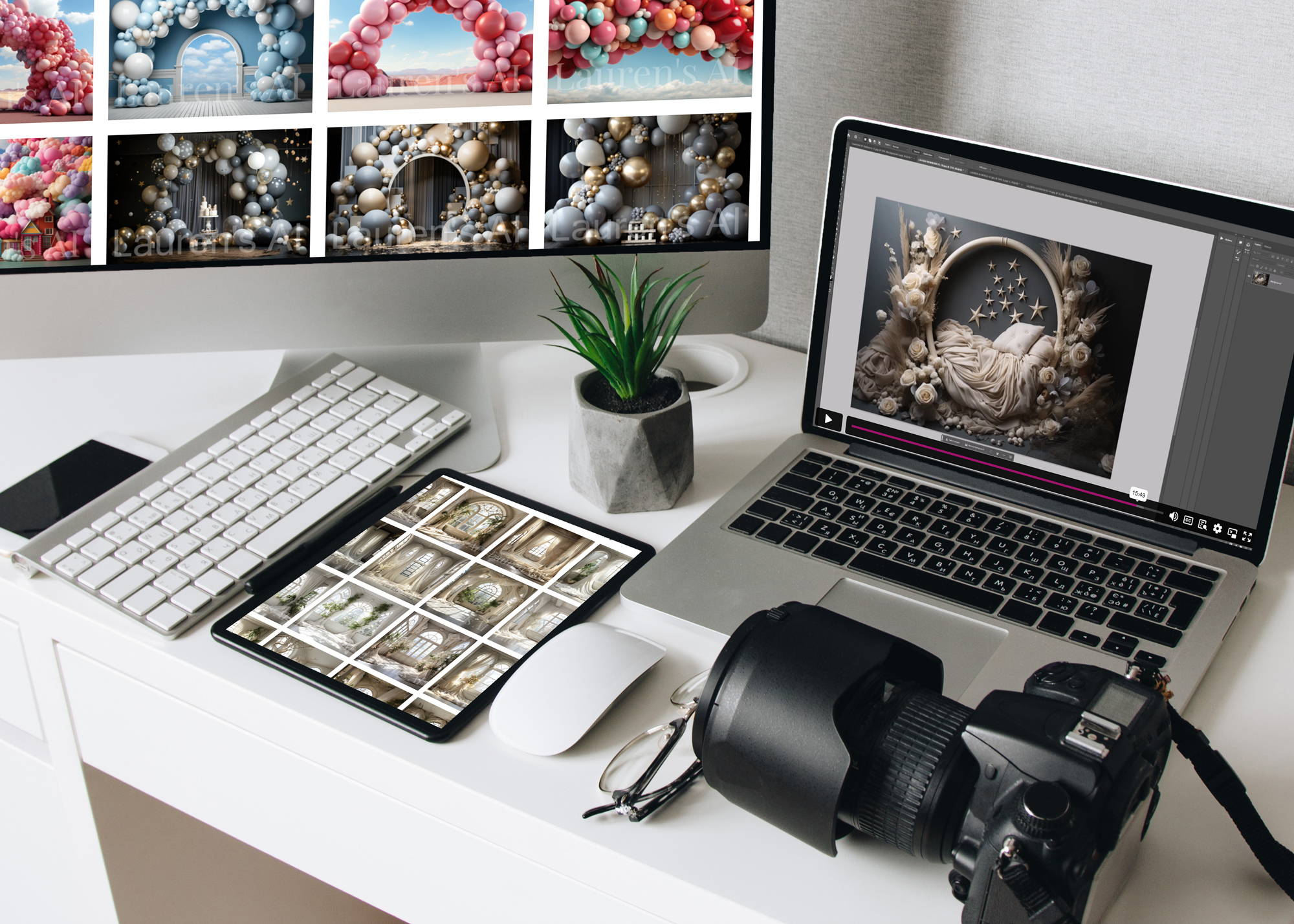 Tips for editing AI images
Step-by-step video guide on how to perfect an image including cloning, healing, patch, content aware, blur methods and more! So you can easily and swiftly adapt these images for your needs.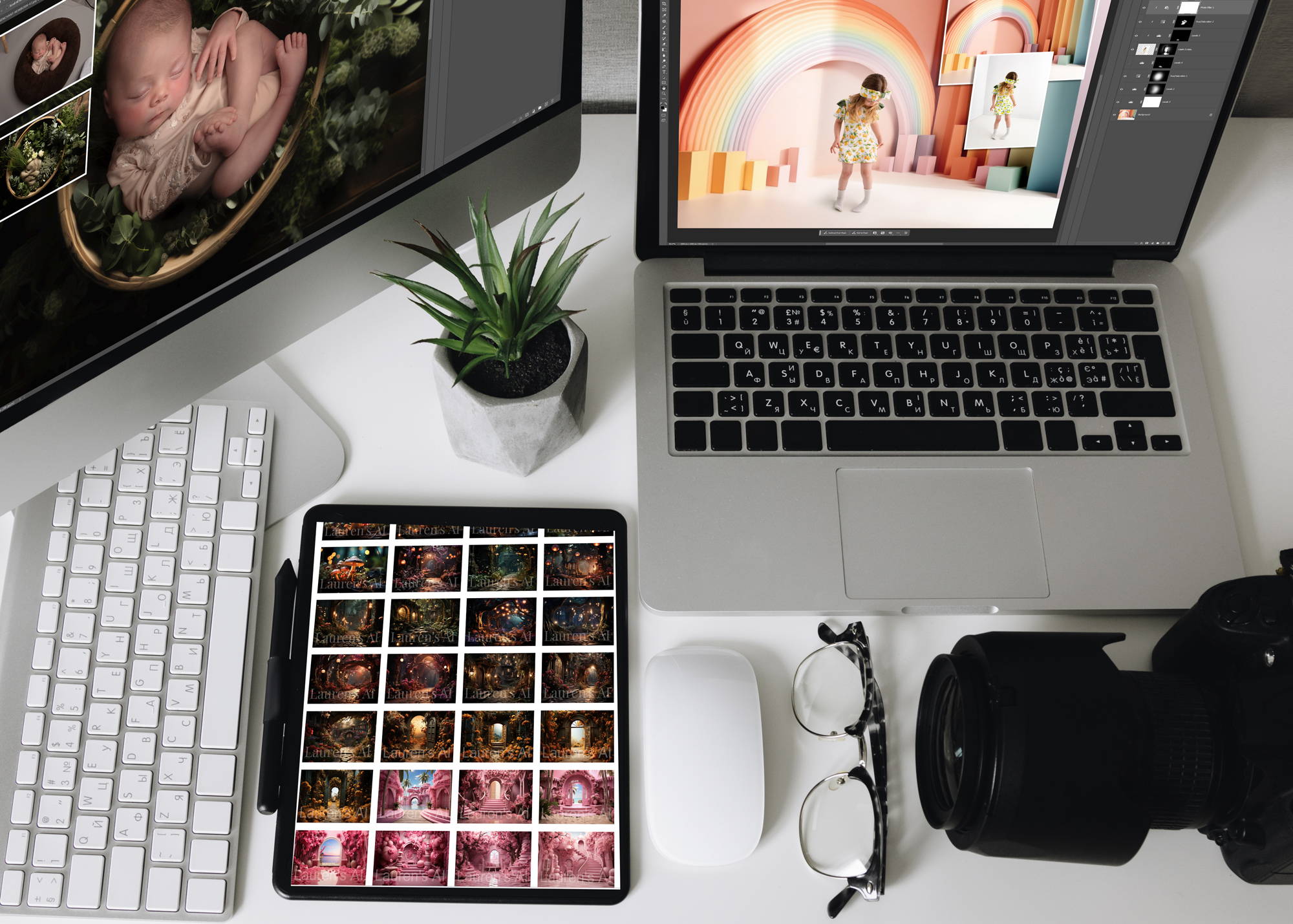 2 hours of full editing tutorials in individual videos, so you can edit along with to pick up some amazing techniques in Photoshop. Practice images included to edit along with!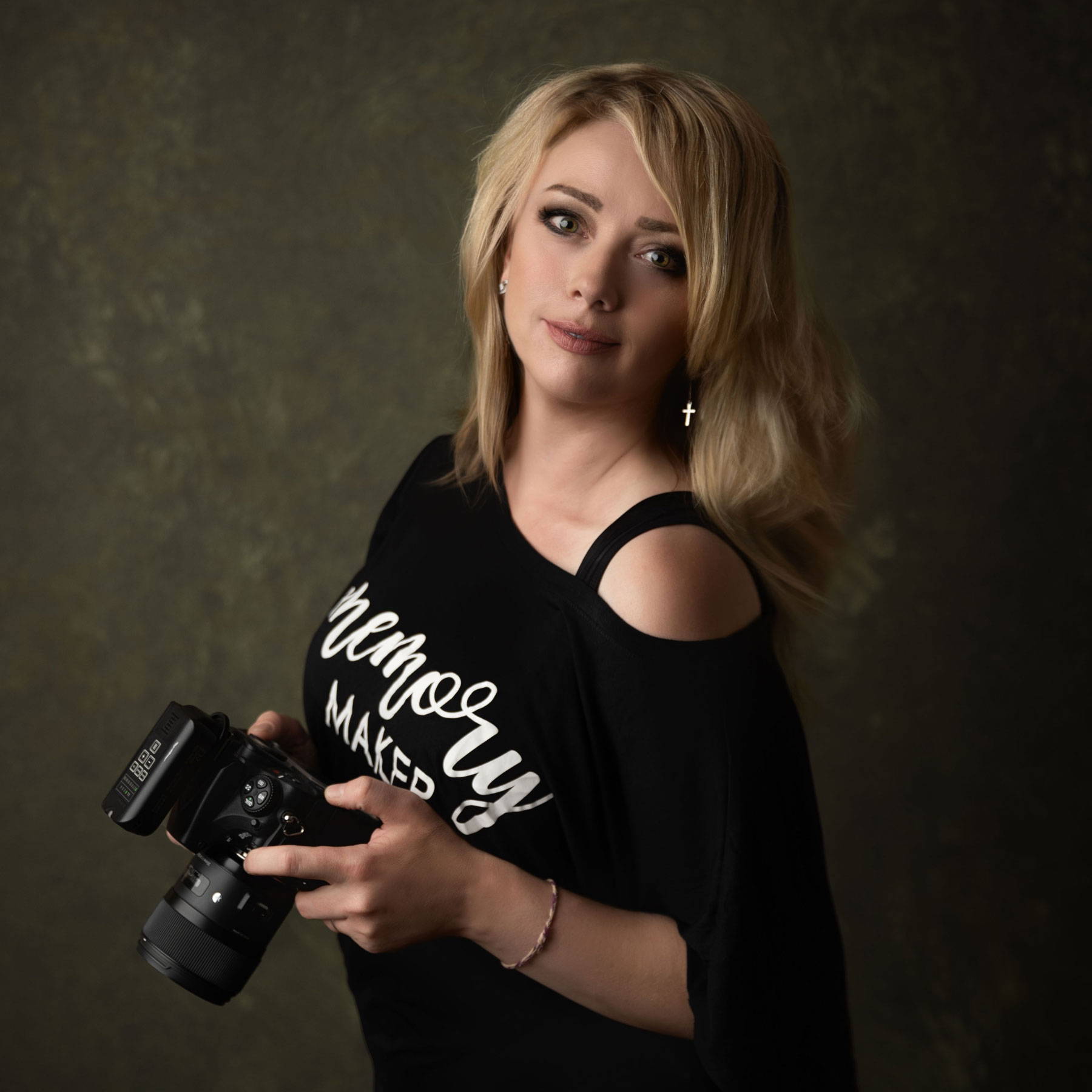 Hi, I'm Lauren! A professional rock bassist turned award-winning photographer and designer (plus a mother of four spirited young kids).
I'm also blessed to be considered a world-renown editing instructor over at LSP Actions Editing Tools for Photographers and the one woman band behind Focus Darling Photography Business Training. The LSP Actions editing tools are now used by some of the world's best loved photographers and have been awarded "Best Professional Photographic Software of the Year" 4 years in a row. You can find out more about me and why I love to create resources for fellow photographers here.
I've created this treasure trove of images using the latest trends and bang-up-to-date with the newest editing techniques, using my own carefully crafted prompts using Midjourney AI with photographer's like you in mind. This library comprises of around only 3% of the images I have created since early 2023 and each has been lovingly upscaled for your use. I hope you love this gallery of images to use within your own creative editing.
These are too good to keep to myself, so I hope you enjoy browsing, downloading and using these images in your own creative photography business. The sky is the limit!


Q - Is this a monthy or yearly membership subscription?
Either - your choice! You can choose a monthly pay-as-you-go membership and cancel any time. OR you can take advantage of the amazing yearly membership special offer with one payment and relax knowing you have full access anytime you need for an entire year! The yearly membership is by far the most popular option.
Q - Do I keep access and user rights to the images I've downloaded, even if I cancel my membership?
Yes. You can cancel your monthly subscription any time and still use to any images you have previously downloaded 🙌 If you cancel, you will no longer have access to download images or browse any new images added. But you can of course still use any images you have previously downloaded to your computer. You can re-join anytime!
Q - What is the image quality like? Are these like photos?
AI-Generated Images are distinct from traditional photos captured by human photographers. Rather than a photo, these images are "photo-realistic", meaning if you zoom in you will see they are more like digital paintings than photographs. They are digitally rendered and may have a surreal finish up close and some may have curious elements or what could be deemed as "imperfections". The images are resized to 6000px long edge at 300dpi meaning they will tally in image size and pixel content with your photographs,.
Q - How can I edit these images to look more realistic?
The editing freedom with these images is all yours! Many photographers choose to blur the backgrounds anyway to make a shallow depth of field, which instantly will make the image more photo-realistic. You can blur, clone, heal and content-aware your way to happiness in Photoshop, it all depends on what you would like to use the final image for! Even as is they will print large and beautifully. I say embrace their uniqueness and explore the creative possibilities these images offer. The Bonus tutorial in the library shows you ALL of these techniques, and more, in Photoshop.

Q - Why is the cost so low for SO many images?
Even though they look it, these images are NOT photographs! To have access to a tailored photographic stock library for creative photographers of this size would easily cost you at least 1000x more a month 🤯 Because these digital images are CGI AI-Created, not real photographs, this allows us to keep the cost so affordable for you! So you have the total freedom to download and keep any images in the EnchantiPix™ library for your business, personal and commercial use!
Q - I'm a beginner in Photoshop, is this right for me?
If you want to use the images to blend with your own (composite editing) for example inserting your subject into a digital background, applying one of the texture overlays, or adding elements such as fairy wings, you will need to use Photoshop. I recommend Photoshop Creative Cloud for this, on your computer. In the bonus section there are full "follow-along" Photoshop tutorials even beginners can practice along with, so you'll be a Photoshop editing ninja in no time! There are many many tutorials online you can follow along with too!
Q - Is this an image editing service?
This is not an editing service or an AI software. The EnchantiPix™ Library is a stock library of thousands of Jpeg images you can download and use in your own editing. These images have been generated by AI for you to download and alter yourself in Photoshop in any way you see fit for your photography editing, hobby, personal and commercial client business!
Once you have access to the Image Library, you can download as many images as you like and you gain access to something that cannot be returned. However, you can cancel anytime you like!
Q - How do I access the EnchantiPix™ Library?
Simply choose your membership (monthly rolling or yearly), and you'll immediately be granted access to the EnchantiPix™ image library + bonuses to access ANY time you need that creative boost! Happy editing, my talented friend.